Samoa Joe Is Excited About New Opportunities Created By AEW Collision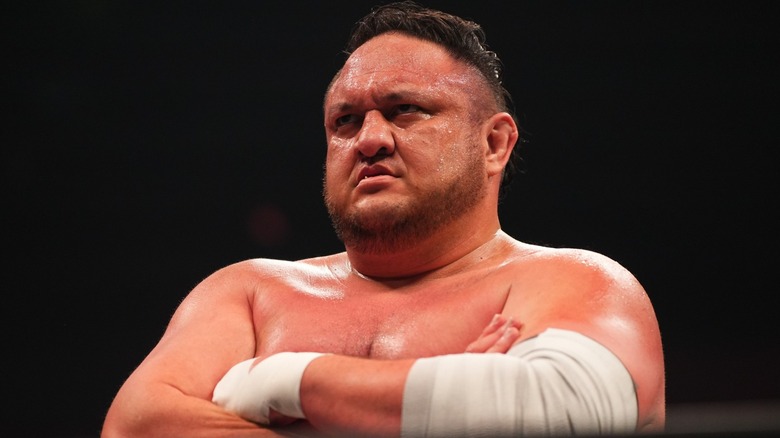 Ring of Honor
AEW has an eventful summer on the horizon: AEWxNJPW Forbidden Door in June, All In at Wembley Stadium come August, and the premiere of their new Saturday show – "AEW Collision" – in the weeks ahead. Samoa Joe is among the talent announced in advance for "Collision." While Joe will make his primary home on this new block of programming, Saturday nights will now also provide more TV time for AEW's roster as a whole, and that's something Joe feels is essential. In an appearance on "Kick Rocks," he shared his feelings that the strength of the Saturday show will be the extra chances now available for AEW to stand out.
"More shows create more opportunity, absolutely," Joe said. "I think this is definitely an example of that. I think for years, people have been saying they wanted to see more and different talents in AEW, and some talents have more of a chance to be showcased in a longer format. And I think 'Collision' is definitely going to offer up those opportunities," he added, "as well as bring in your favorite AEW stars to your house one more night a week."
As for who Joe could face on "Collision," the former TNT Champion expressed a willingness to take on all comers, including an old rival of his who is both rumored to be returning to AEW for "Collision's" premiere and has his sights likely set on Joe. (It's CM Punk.)
"I know I'm gonna be there," Joe said. "Anybody else in Chicago who want to show up that got heat, they can be there too. But we'll find out."
If you use any of the quotes in this article, please credit "Kick Rocks" and provide a h/t to Wrestling Inc. for the transcription