Yota Tsuji Joins Los Ingobernables De Japon Ahead Of NJPW Dominion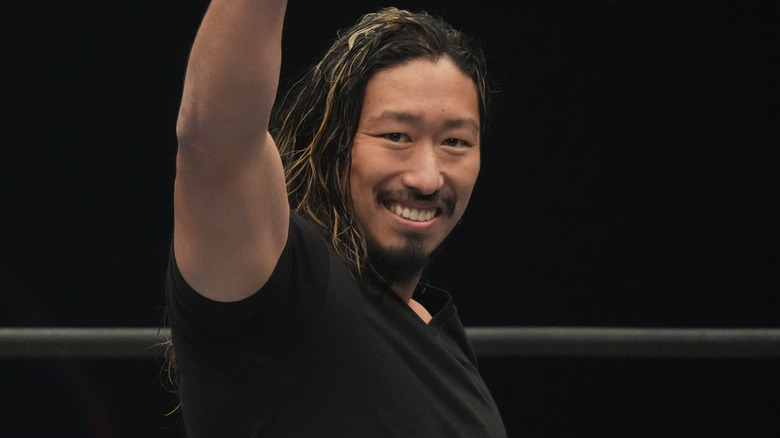 Etsuo Hara/Getty Images
Since his explosive return at the expense of IWGP World Heavyweight Champion SANADA at Wrestling Dontaku 2023, the question of whether or not NJPW's Yota Tsuji would join Los Ingobernables De Japon has been the question on everybody's mind. The former young lion's attack on SANADA and his stablemates was punctuated with the signature L.I.J. pose, but it wasn't until earlier today that we finally got an answer; Just one day before the biggest match of his career, Tsuji was officially named the newest member of Los Ingobernables De Japon.
The groundbreaking development took place at the NJPW Dominion press conference, a public event that saw Tsuji and SANADA sign the contract for their June 4 main event bout in Osaka. However, following his face-to-face encounter with the champion, Tsuji was then confronted by all six current members of NJPW's most popular faction, headed by Tetsuya Naito. When asked if he wanted to join L.I.J., Tsuji answered confidently, "I will be fighting in Japan from here on, and I want to do it in Los Ingobernables De Japon."
While Tsuji will effectively fill the hole left by SANADA, who left L.I.J. earlier this year to join Just Five Guys, the returning star seems unlikely to fall in line under Naito's leadership. Promising to take the group to "new heights" going forward, a power struggle between Tsuji and Naito could be imminent for the beloved faction. For now, however, the 29-year-old star will have Los Inogobernables De Japon's backing heading into NJPW Dominion, the second-biggest event on the company's annual schedule.