Kurt Angle Calls Bloodline Saga The Best WWE Storyline In The Past Few Years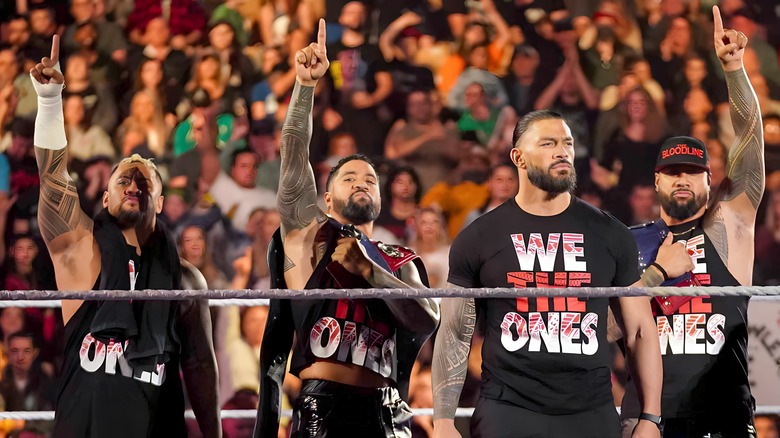 WWE
Kurt Angle has joined the long list of former wrestlers who are in awe of WWE's ongoing Bloodline saga. 
While discussing the storyline on "The Kurt Angle Show," the Olympic gold medalist heaped praise on Paul Heyman, Roman Reigns, The Usos, Sami Zayn, and Solo Sikoa for playing their parts to perfection, which he believes has led to fans getting emotionally invested in their saga. 
"It [The Bloodline story] is the best thing that they have done in the last couple of years," Angle began. "I was really thinking, [if] Roman was going to hold the title for so long — and not that I'm against it, but I just think it's too long. But having these guys turn on Roman ... what a great storyline. They just turned s*** into Shinola, they really did."
"I'm not saying that Roman being champion is s***," Angle added. "He deserves to be champion, he is the man, but they were able to turn this into an incredible storyline, that the fans are really into, and this is something they needed right now."
Angle then wondered if the twists and turns in the Bloodline storyline were pre-planned, or if WWE's creative team had a clear-cut vision beforehand. Furthermore, the WWE Hall of Famer jokingly suggested the possibility of former WWE head writer Brian Gewirtz collaborating with WWE's creative team from a remote location. 
"Paul [Heyman] is definitely a huge part of this [creative process]," Angle said. "I think it's a lot of his ideas that are coming through right now. "
Angle's praise of The Bloodline story was somewhat contradictory to his earlier comments on the podcast, whereby he rued the fact that pro wrestling no longer focused on storylines to win over audiences. As such, Angle felt that The Bloodline saga was bringing back elements of the business that were rarely to be found in modern-day wrestling programming.