Update On Whether AEW Talent Are Prepared To Walk Out As A Result Of CM Punk's Return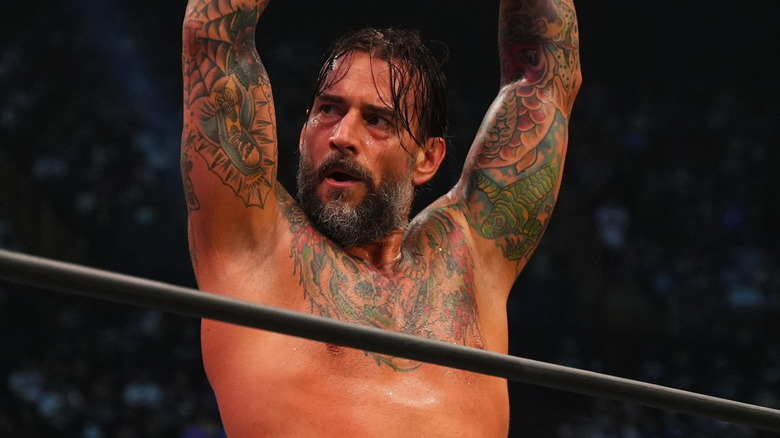 Irvin Rivera/Getty Images
CM Punk is returning to All Elite Wrestling on June 17, and with every new update, the former AEW World Champion's return feels akin to a lit match headed for a pile of oily rags and gunpowder. However, it seems nobody on the current roster is prepared to be the first to toss it — at least not yet. On the latest "Backstage Report Podcast" from Fightful, Sean Ross Sapp reported that while some in the AEW locker room are still sore over Punk's comments at the press conference that followed All Out 2022, nobody has plans to stage any kind of walk out or collective action over the divisive star's return. 
"Things have just [cooled] off," Sapp said. "And AEW has definitely taken measures, as much talent do have issues with Punk, they are making sure to keep those separated, so to speak."
The main tool for keeping talent separate is the rumored brand split between "AEW Dynamite" and the soon-to-premiere "AEW Collision." The nature of the brand split is currently fluid, as Sapp notes that both hard and soft brand splits have been proposed, as well as a possible "floating split" which would just involve certain individuals.
Sapp also addressed reports of the inclusion of Ace Steel on the "Collision" creative team, saying that he's involved with the team but not leading it. Steel infamously bit Kenny Omega during a locker room altercation that followed Punk's acidic rant, and Punk had been reportedly playing hardball with AEW over Steel's release following the incident, with Punk rumored to almost blow up the plans for his return in hopes to bring Steel back into the creative fold. Nonetheless, Sapp reports that "numerous sources" claim that Steel was "a valuable member of the AEW team prior to Brawl Out, as a creative mind and a coach."