Tommy Dreamer Illustrates Difficulty Of Booking WWE's Bloodline For MITB 2023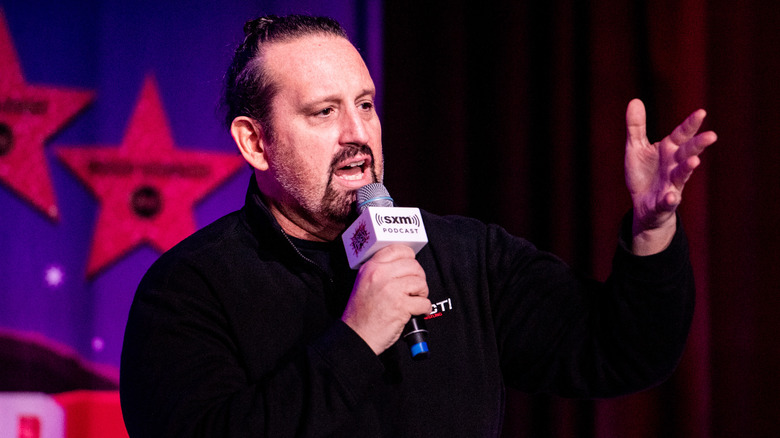 Timothy Norris/Getty Images
WWE's Money in the Bank is this weekend, taking place at the O2 Arena in London, England. Ahead of the big show, SiriusXM's "Busted Open Radio" devoted some time to discussing the heavily-anticipated Bloodline Civil War match, featuring Roman Reigns and Solo Sikoa vs. The Usos. Co-host Tommy Dreamer laid out the hard part about booking a delicate story such as the one WWE currently has on their hands with The Bloodline.
"Here's the conundrum you come up with when you're splitting up The Bloodline: where do we go with Roman now?" Dreamer said. "Before, it was, 'Who's going to be a viable contender for that [title]?' [We] still don't know if that person exists. So where do we go with this? Obviously, we're still going to have to ride out The Usos feud, which is going to be happening on this card. But then – okay, so, is Jay going to go after Roman? Is Jimmy going to go after Roman? [I] don't see either of those guys winning it, so it's either going to be: Solo has to split, and you go Solo-Roman, or someone with the Money in the Bank."
Dreamer listed both LA Knight and Logan Paul as possibilities for the men's Money in the Bank winner, but feels that both could likely end up pursuing Seth Rollins and the WWE World Heavyweight Championship. Later on in the show, Dreamer shared his opinion on what he believes will happen at the conclusion of the Bloodline Civil War match.
"It'll be compelling, but I give it to The Usos," Dreamer stated. "I think The Usos will get a victory over Solo. ... It'll be amazing if somebody pins Roman, because that kind of helps them, but I think it'll be some compelling storyline."