AEW Stars Reveal Their Favorite Playable Characters In AEW: Fight Forever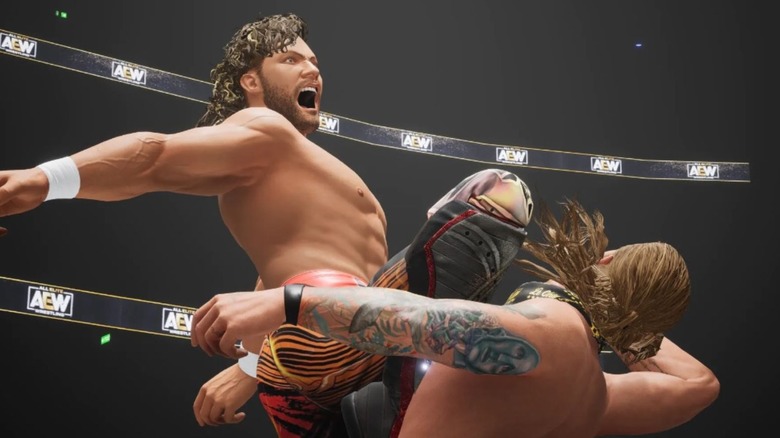 THQ/Nordic
AEW's "Fight Forever" has finally been released after years in the making, and the company's stars are sharing their favorite characters to play as they move through the game's different modes. Speaking on "AEW Unrestricted" with Aubrey Edwards, Adam Cole and Evil Uno revealed their favorites.
Uno said he had one character in mind when he first got his hands on the game.
"The second I got the game I played as John Silver, just because we're both in Dark Order, he's my pal," he said. "It's fun to like, see my friends and then start unraveling their moves as I play them as well, and being kind of surprised, like, 'Oh, I can't believe this got in there! And this got in there.' Like the attention to detail on that stuff."
Uno told Edwards he also enjoys playing as Chuck Taylor, as they have known each other for almost 20 years. As for Cole, he's partial to a specific women's wrestler.
"Well, besides myself, of course. Playing as Dr. Britt Baker is pretty, pretty cool, also," he said, prompting Edwards to laugh and ask if Baker, Cole's real-life girlfriend, was with him.
"In all seriousness, getting to play through multiple different characters, and again, the attention to what these wrestlers would actually do in a wrestling match has really been paid attention to," Cole continued. He mentioned "constant surprises" when it comes to gameplay in matches, even in "specific" instances.
"Weirdly enough, it wasn't even necessarily a signature move, but it was a thing that was shown in a very small clip of me versus Kenny Omega, within 'Fight Forever,'" Cole said. "And when I saw this little detail, which is not a signature move, I immediately, was like, 'oh my god.' There have been tons of little details like this."
If you use any of the quotes in this article, please credit "AEW Unrestricted" with an h/t to Wrestling Inc. for the transcription.