Why Tommy Dreamer Can't Pick A Winner For WWE Money In The Bank Women's Ladder Match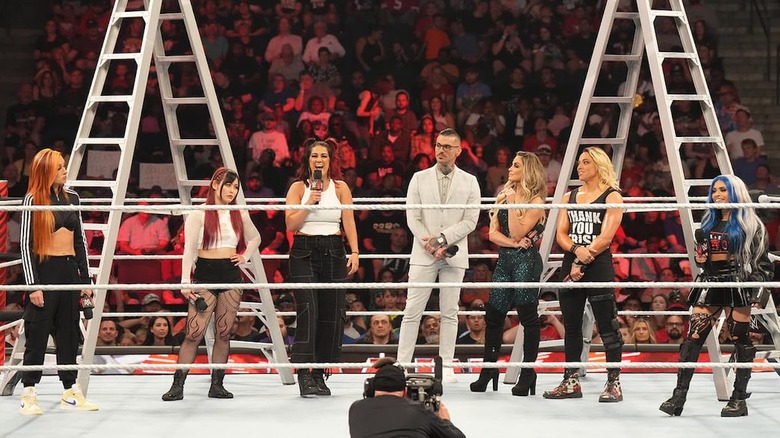 WWE
This Saturday in London, England, six wrestlers will square off in the women's Money in the Bank ladder match to compete for the coveted briefcase. Of the six, only Bayley has ever won this match previously, whereas WWE Hall of Famer Trish Stratus has never even competed in a ladder match. And while the latest odds have IYO SKY winning, Tommy Dreamer isn't as sure. Though, he does believe one thing.
"You know who I gotta say on this one: The fans," Dreamer said on "Busted Open." "Because I can't give a prediction whatsoever."
That said, Saturday marks the first time that SKY and recent "NXT" call-up Zoey Stark are participating in a Money in the Bank match. Becky Lynch and Zelina Vega both have experience, having never won, with the former suggesting recently that winning this match would "complete" her career. And while Dreamer couldn't put his finger on a definitive answer, he did have positive things to say about all of the competitors, beginning with Vega.
"Zelina Vega has done an amazing job getting herself over," Dreamer continued. "She has ridden that wave since her Puerto Rico match and continued that ... If the ultimate underdog climbs that ladder to success, and then cashes in the Money in the Bank briefcase on the woman that beat her in her hometown, that's an amazing story ... So there's one where 100 percent validity in winning the Money in the [Bank] briefcase."
The Field Feels Wide Open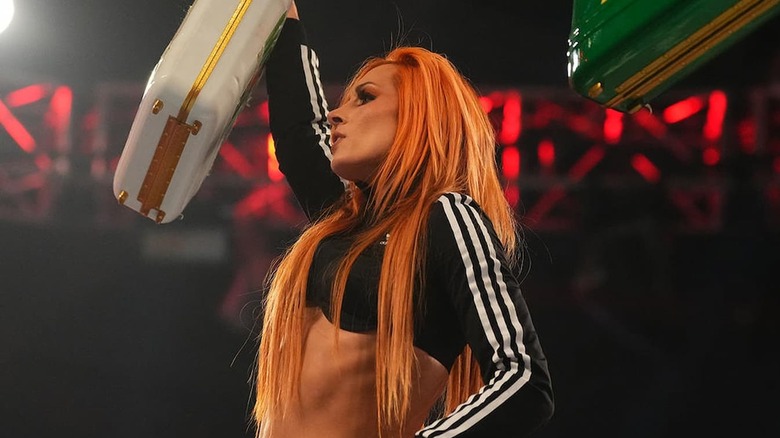 WWE
Keeping that in mind, Dreamer still has plenty of love for Lynch as well. But that's just it. His reasoning suggests that any of the six could win and it'd likely end up being the right decision.
"Another person: Becky Lynch. Becky Lynch, forget it," Dreamer added. "She can win it no matter what, get to the rightful place where she belongs ... still is 'The Man.'"
While some would argue Lynch is someone who doesn't need the briefcase to get that boost, Dreamer doesn't see anything wrong with it, citing her main event status as a positive. And then there's Stark.
"One of 'Busted Open's' favorite wrestlers from 'NXT:' Zoey Stark. I'm the biggest Stark mark," he continued. "And, boost her to instant stardom."
The wrinkle there, of course, is that ever since moving to the main roster, Stark has been more or less the protégé of Stratus, who will also want to win the briefcase on Saturday.
"Think of if she wins the Money in the Bank, and she's still associated with Trish Stratus," Dreamer wondered.
The Trish Stratus Factor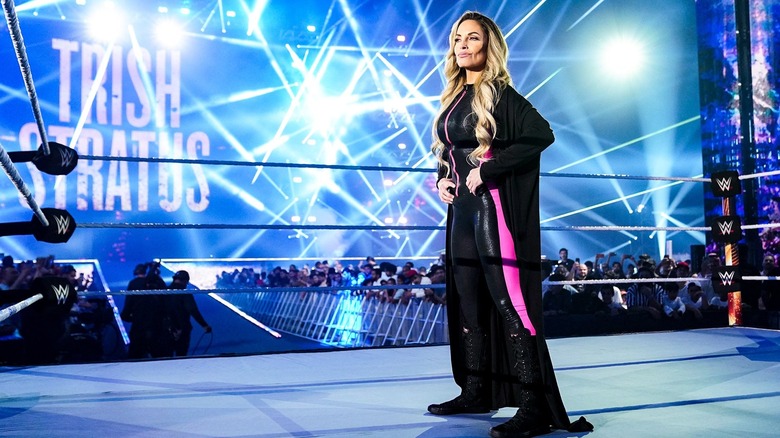 WWE
If nothing else, Dreamer believes a change in character for Stratus would be on the cards if Stark won, but he isn't ruling it out. And as for the WWE Hall of Famer, much like Lynch, he sees the possibility as a no-brainer.
"Trish Stratus, forget about it," he began. "The GOAT ... Carrying this new persona to a T. And it is very, very hard for an established, beloved character to change like she has."
That just leaves the women in Damage CTRL – Bayley and SKY – who have been at odds in recent weeks. For Bayley, it would be a true return to the main event picture while SKY, on the other hand, would be elevated to stardom much like if Stark won.
"Across the board, wide open," Dreamer admitted. "And kudos to all the women for, I don't even want to say stepping up. But I honestly have more interest in the women's Money in the Bank than I do in the men's."
If you use any quotes from this article, please credit "Busted Open" with an h/t to Wrestling Inc. for the transcription.