The Usos Felt Validated After Headlining WWE WrestleMania 39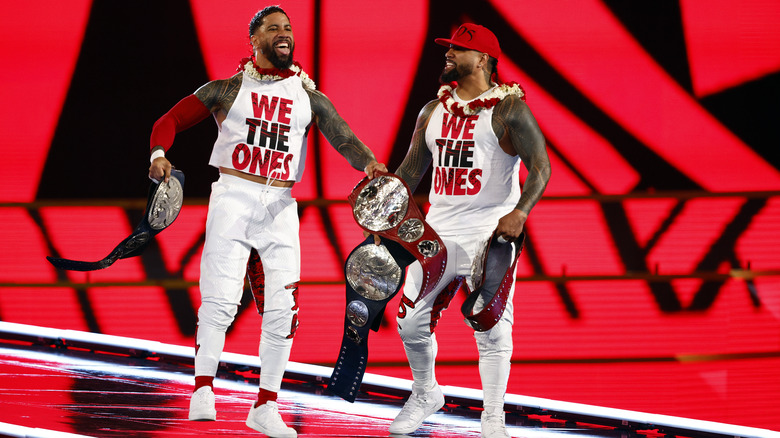 Ronald Martinez/Getty Images
The Usos have built a legacy as one of the top tag teams in WWE history, with their recent record-breaking Undisputed WWE Tag Team Championship reign further cementing that fact. When they finally did lose those belts, they did it in the grandest way possible, dropping the titles to Sami Zayn and Kevin Owens in the first-ever tag team championship main event of WrestleMania.
The Usos, who have continued to be a focal point of WWE without the titles, spoke to Ariel Helwani of BT Sports about how it feels to be at the top of the wrestling world. "Once we watch the product back... it came off better than we ever thought [it would]," Jimmy said, "I remember last year in November, we had a conversation like, 'Yo, man, we should main event [WrestleMania]. I think we got it. This is the year we can make history."
Their WrestleMania main event prompted both brothers to look back at where their run on the main roster began, saying WWE didn't prioritize tag team wrestling whatsoever in the early 2010s. "To get from when we first got in... to this year, main eventing WrestleMania, it was a threshold that we crossed. It was a milestone that we reached. It was something personal," Jimmy explained.
Jey continued elaborating on his brother's point, recalling the aftermath of their bout with Owens and Zayn. "After the 1-2-3... I just rolled outside and laid by my brother and we just held hands," The younger Uso explained.
Jimmy summed up his feelings coming out of the WrestleMania main event by simply remarking how good it all felt despite losing the match. "You almost have that validation," Jimmy concluded, "I just remember thinking, 'Man, we're here!'"