Lio Rush Discusses Impact Atmosphere & Decision To Join Promotion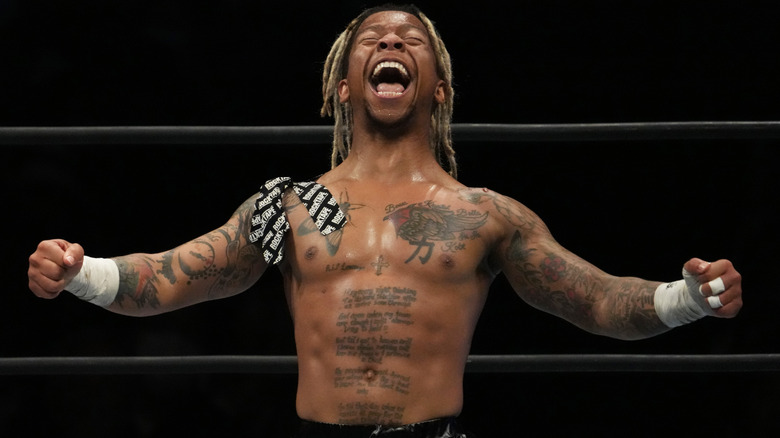 Etsuo Hara/Getty Images
At the young age of 28 years old, Lio Rush has already showcased his talent all over the wrestling world. Over just the past five years, Rush has done noteworthy work in WWE, AEW, New Japan Pro-Wrestling, and, most recently, Impact Wrestling. The CHAOS member made his return to Impact Wrestling in mid-June, quickly staking a claim on Chris Sabin's X-Division Championship as soon as he arrived.
Rush recently appeared on the "Battleground Podcast" to discuss his choice to make Impact Wrestling his new home in North America. Rush, who first competed in Impact on Multiverses United last March as a part of their partnership with NJPW, pointed out that the locker room was a huge plus and one reason why he decided to become a regular for the company.
"The energy is different coming off of the actual wrestlers. There are a lot of hungry people there," Rush said. "They've got something to prove. All of those guys and girls are superstars ... Impact is the place to be," explained Rush.
Rush continued, noting that the vibe within Impact is unique compared to several other companies he's wrestled for. "It really is a different kind of atmosphere, which makes it so, so different than everywhere else," Rush explained. He added, "It is fiery and it is motivating. It makes you want to be better. It makes you want to work harder than you've ever worked before ... Because all eyes are on you when that camera is on."
With Lio's sights set on the X-Division, his unique style will surely continue to be highlighted in Impact Wrestling. Before Impact, Rush was most recently competing in NJPW's Junior Heavyweight Division. During his first tour of Japan last year, Lio won the Super Junior Tag League alongside YOH to cement himself as a standout in the division.