Bully Ray Takes Stock Of WWE's Judgment Day, Damian Priest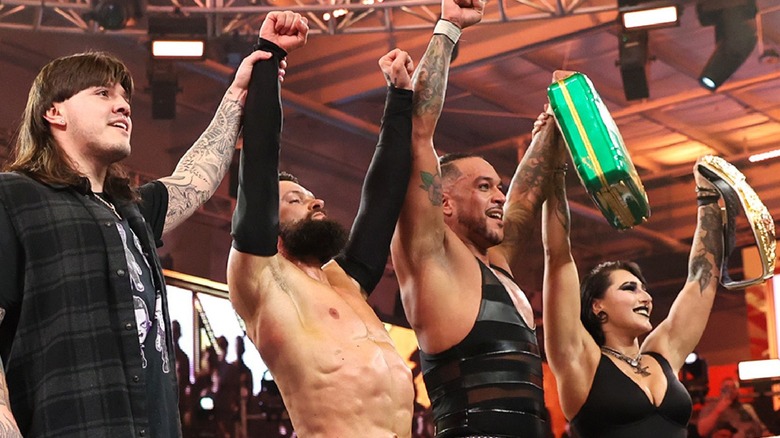 WWE
The Judgment Day is one of WWE's hottest acts, easily drawing the crowd's ire and boasting bonafide stars in Damian Priest, Dominik Mysterio, Finn Balor, and Rhea Ripley. As seeds of discord seem to be sprouting within the group, The Judgment Day's future as a unit may be on thin ice, but the individual star power of its members carries a ton of potential. In recent months, Priest has been thrust into the spotlight with a show-stealing street fight against Bad Bunny and, most recently, his victory in the men's Money in the Bank Ladder Match. 
On a recent episode of "Busted Open," Bully Ray shared his thoughts on the faction's current affairs, offering plenty of kind words toward Priest. "Every day that Priest is on my TV, I see him mature more and more in front of my eyes as a main event player in the WWE," he shared. A critical step in that direction, according to Ray, is separating Priest from the group. And while the large and imposing Priest may fit his current role as a heel well, there may be a more viable option.
"You would think that by watching him, he has 'heel' written all over him, but he actually has the opportunity to be a quality babyface," Ray proposed. "And if you are a babyface that they have plans for ... if they have plans for you in the WWE, it's much better for you to be a babyface than a heel." 
Women's World Champion Rhea Ripley also earned high marks from Bully Ray, who touted her as the "glue" within The Judgment Day. Similar to his thoughts on Priest, Ray didn't let Ripley's penchant for bad distract him from the babyface appeal the champion could wield turning against Mysterio down the line. 
"It's gonna be amazing to see what's gonna happen when they all turn on Dom one day," he stated, "or especially when she turns on Dom one day and she starts ragging on Dom for being a little boy, never the man that he thought he was, yada yada. It's gonna make for some entertaining TV."