Roxanne Perez And Blair Davenport To Face Off Again At WWE NXT Great American Bash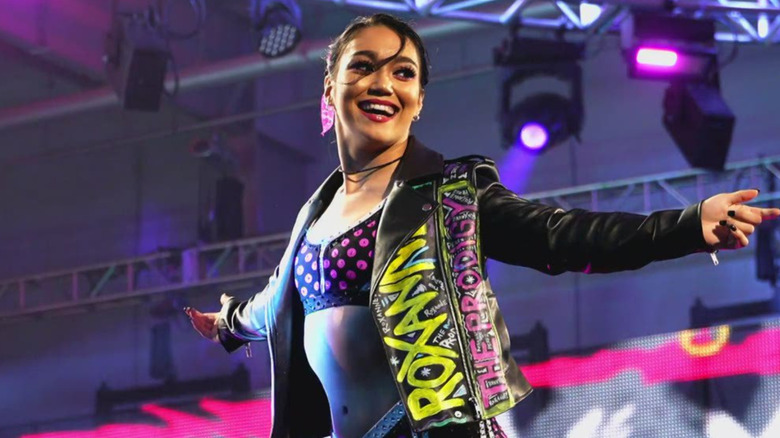 WWE
Roxanne Perez and Blair Davenport have officially joined the stacked card for "WWE NXT's" Great American Bash.
Ever since Davenport was revealed as the hooded figure behind the numerous surprise attacks on the "NXT" women's division, Davenport and Perez have ignited a bitter rivalry. That feud will now continue as the two are set to face off at the "NXT" Great American Bash on July 30.
During Tuesday's episode of "NXT," Perez and Davenport participated in a dual sit-down interview with "NXT" commentators Vic Joseph and Booker T. When Perez accused Davenport of posting a video of her private prep talk with Booker, Davenport denied it. Davenport then proceeded to mock Perez, warning her that the "NXT" women's division was made for grown-ups and not "little girls" like Perez. Perez, a former "NXT" Women's Champion, responded with frustration, stating that she was tired of being targeted. Perez was determined to filter this frustration into motivation though.
Davenport pushed back by claiming that Perez didn't believe in herself. Despite Perez's protests, Davenport insisted that Perez didn't belong in "NXT," which then prompted "The Prodigy" to storm off the set.
It was also during this segment that WWE confirmed the rematch between Davenport and Perez. Davenport previously defeated Perez on the July 4 episode of "NXT."
In addition to Perez vs. Davenport, WWE also announced that Tiffany Stratton will defend her "NXT" Women's Championship against Thea Hail in a submission match at The Great American Bash in Cedar Park, Texas.