Why Bully Ray Is Looking Forward To Shayna Baszler Vs. Ronda Rousey At WWE SummerSlam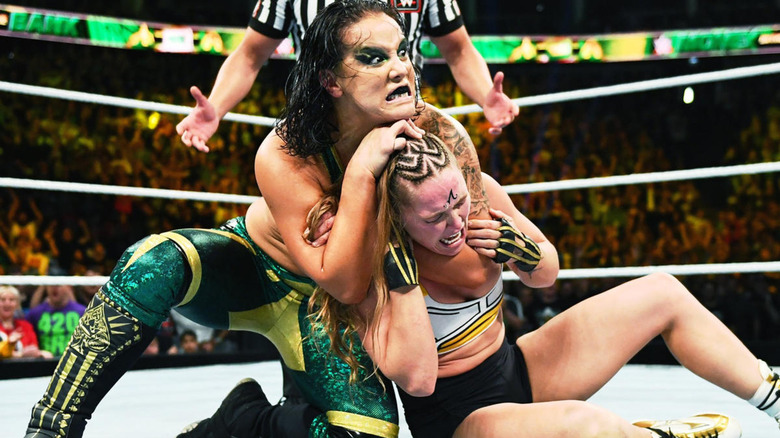 WWE
After dominating the women's tag team division and maintaining a real-life friendship for many years, Ronda Rousey and Shayna Baszler's relationship came to an end recently when the latter turned on the former at Money In The Bank and cost them the WWE Women's Tag Team Championships. 
Now, the two will collide at SummerSlam in Detroit to settle the score that stemmed from "The Baddest Woman On The Planet" taking shortcuts and being handed opportunities that "The Queen of Spades" rightfully earned. After their heated exchange on this week's "WWE Raw," Bully Ray is sold on this rivalry.
On the latest "Busted Open Radio," he shared his excitement for the upcoming match with co-host Tommy Dreamer. The legends praised both women for cutting excellent promos to really sell the animosity, although the multi-time tag team champion added that a stipulation could take this battle to the next level.
"Ronda did a great job on the microphone last night generating some heat and I thought Shayna stepped up to the plate also," he said. "I enjoyed the banter between the two and I'm looking forward to this match at SummerSlam. Both of these ladies have an aggressive style. We could get a UWF or UWFI kind of match out of Shayna and Ronda with that WWE sports entertainment factor put into it."
The Universal Wrestling Federation and the Union of Professional Wrestling Force International were pro wrestling promotions that were precursors to MMA. Featuring icons such as Vader, Dan Severn, Bob Backlund, and The Iron Shiek, they highlighted submission and striking-based wrestling taught by legendary shooters Lou Thesz, Billy Robinson, and Danny Hodge. 
Considering Rousey and Baszler's background in MMA, this type of points-based match could be an attraction for SummerSlam. Alternatively, this could also be an excellent opportunity to bring back the Fight Pit. But regardless of the type of match, this confrontation is sure to be an incredibly personal one.