Cody Rhodes Recalls Final Days In AEW And Considering 'Exit Interview' Promo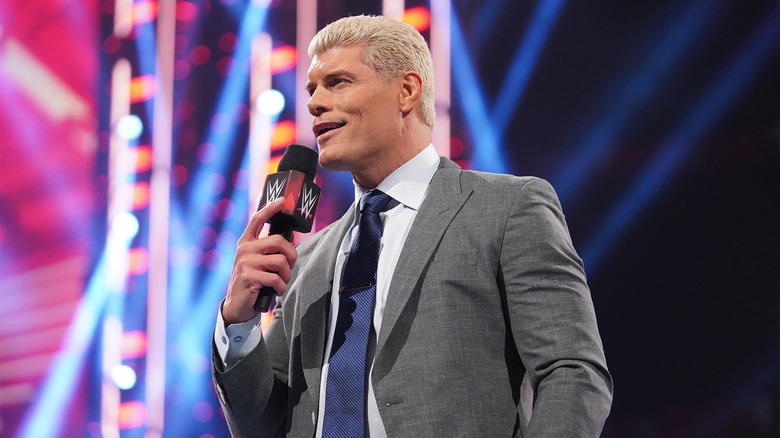 WWE
It's been a minute since Cody Rhodes departed AEW, leaving for a return to WWE, where he has done quite well for himself thus far. But even after all this time, Rhodes still can't seem to escape questions about his exit from AEW and the days leading up to it.
"The American Nightmare" would cut his final promo on "AEW Dynamite" in January of 2022, but he hadn't committed to leaving AEW just yet. In an interview with "notsam Wrestling," Rhodes revealed he continued to work for AEW until February 2, where he coached a match between Ruby Soho and Nyla Rose. Even still, Rhodes knew there was a distinct possibility that he might be leaving soon when he cut the January 19 promo and had a specific goal in mind when he executed it.
"I look at it now and I call it the exit interview," Rhodes said. "And I think, maybe selfishly, egotistically, maybe I wanted to remind them 'Hey, I appreciate that the company's changed. I do. Please know, though, there is no company had these things hadn't happened.' Now other stuff had to happen," he continued. "Jericho had to do his stuff, the Bucks had to do their stuff, Kenny had to do his stuff, Mox had to do his stuff. He's a big part of it, too — I don't give him credit enough. But I just wanted them to know."
Cody Rhodes Elaborates On Reasons Behind The Exit Interview Promo
WWE
Rhodes discussed some of the finer points of the promo, including letting CM Punk know he would reference Punk's infamous "pipebomb" promo in order to avoid any possible heat, in addition to what he described as his "heel run" during the back half of his AEW tenure. He then circled back to his previous point of the "exit interview" promo and elaborated on his "wanting them to know" remark. He wanted to make it crystal clear that the "them" in question was the AEW fans.
"I just, selfishly, wanted fans to know 'I love you guys so much. And I did all this. And if you have forgotten about it, I don't think that's cool,'" Rhodes said. "But it's part — it's the nature of it. Me, Matt, and Nick talk about it all the time. People don't remember ... It's so odd, because I was so mad at different journalists and stuff like that for how they discredited my dad, took things away from him. And then later he passed away and 'Oh yeah, he did all of this and that.' 
"As mad as I was, I felt like in that moment, I was like 'Oh. It's happening all over again. Happening to me.' There's too many egos in wrestling, including my own," he added. "I can't take credit for the revolution. I can't. There were other people. Was I big part of it? Sure."
If you use any of the quotes in this article, please credit "notsam Wrestling" and provide a h/t to Wrestling Inc. for the transcription