Freddie Prinze Jr. Calls AEW's MJF And Adam Cole The Best Tag Team In Wrestling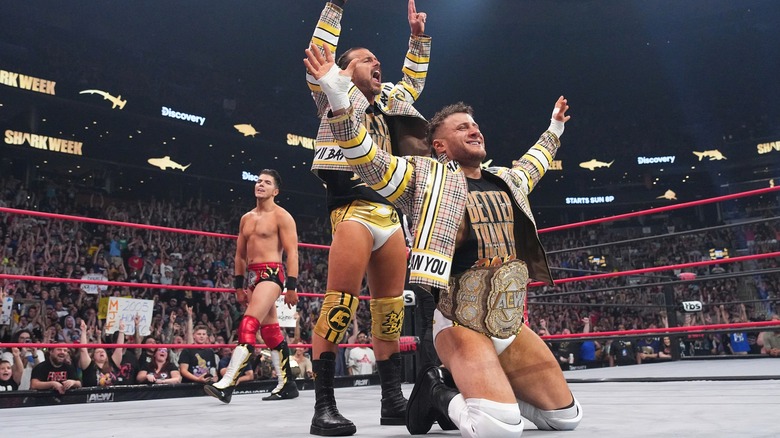 AEW
In a world where teams like Kevin Owens & Sami Zayn, FTR, and The Usos still exist, a new contender has emerged for the title of "best tag team in wrestling," and former WWE writer Freddie Prinze Jr. believes the honor belongs to the recent makeshift pairing of MJF & Adam Cole.
Speaking on "Wrestling With Freddie," Prinze praised MJF for engaging in a hilarious "buddy cop-type" storyline with Cole in the midst of his AEW World Championship stint. "Whether you like MJF's ideas or not, each and every time he takes a big swing," Prinze began. "He might not always hit a home run, but he'd still hit a lot of triples."  Prinze pointed to MJF encouraging the crowd to chant "dance off" prior to a recent match, revealing that the segment got his daughter to get up off her couch and oblige. At that moment, Prinze was even more convinced of MJF's ability to connect with audiences. 
"You know this eventually ends in betrayal," Prinze admitted, as he touched upon MJF and Cole's on-screen chemistry. "It has to — because Adam Cole wants the belt, and MJF treats it [the belt] like his girlfriend from the '80s. But this match [against Big Bill & Brian Cage] ... I had been waiting for the double clothesline because they had been setting it up for so long, and it is the weakest finisher ever — and I love that they finally won with it."
Prinze is still amazed at MJF and Cole developing chemistry this early, considering they've only teamed together a handful of times. "I don't know how they're pulling this off," Prinze added. "To have four matches together and be the best tag team, and most entertaining tag team in wrestling — even the stupid ass vignettes they do in the Chinese restaurant. I love this stuff so much!"
On this week's "AEW Dynamite," MJF promised to give his "best friend" Cole a shot at his AEW World Championship in the near future. In the meantime, the duo will challenge FTR for the AEW World Tag Team Championship this Saturday on "AEW Collision," a title match they earned by winning the AEW Blind Eliminator Tag Tournament.