Why Cody Rhodes Feels 'Stuck' In WWE WrestleMania Moment & What He Plans To Do About It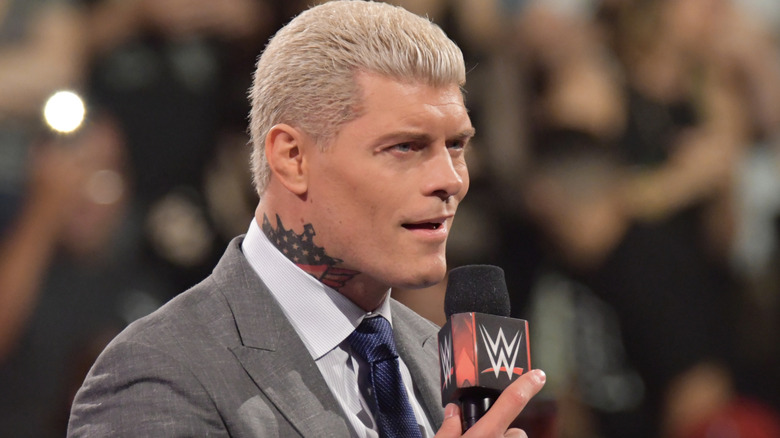 Kevin Tall/Wrestling Inc.
As WWE prepares for SummerSlam on August 5, Cody Rhodes is still recovering from the events of WrestleMania 39. It was in the main event of the two-night card that Rhodes came up short in dethroning Roman Reigns for the WWE Universal Championship. During a recent interview with Sports Illustrated, Rhodes explained how he felt stuck in that moment of loss.
"I feel you have moments in your career where you get stuck in them, whether they're so good or whether they're so low, that you get stuck in these moments," Rhodes said. "It's not unlike if you have a traumatic experience in your personal life. For me, I felt, and I still do three months removed, very stuck. In that there was a very long period of time where I was sitting in the ring."
While sitting in the ring, Rhodes saw all the saddened fans staring at him rather than fleeing out of the stadium to try and beat traffic. He was also aware that cameras were still rolling and that his family was still watching.
"And the internal monologue I had when I saw my family at ringside, then I saw some of the most diehard fans fully decked out in every piece of merch for me they could have possibly bought, the internal monologue was really just telling myself to get up. Was to get up. And then I wanted to make a point that I was not gonna walk what we call 'loser lane.' I'm going to walk all the way back up this 70-yard ramp and I want to feel every bit of this loss."
Cody Rhodes Calls Main-Eventing WrestleMania 'A Sickness'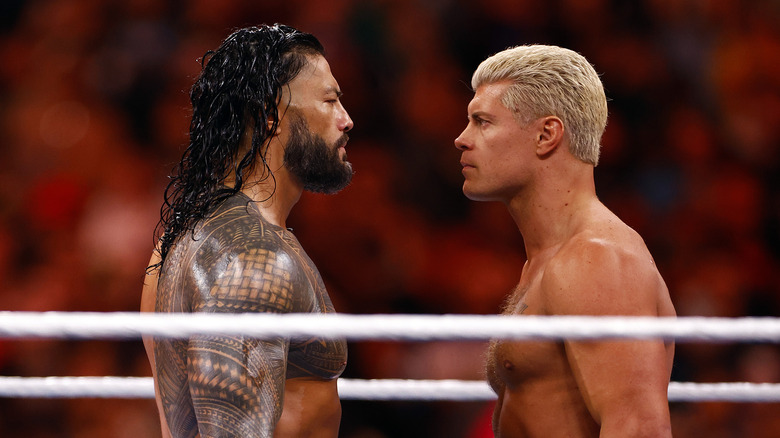 Ronald Martinez/Getty Images
Rhodes explained that he wanted to feel the magnitude of the loss at that moment because he didn't want to feel distraught or be in a bad mood around his wife afterward. He was focused on feeling that loss with every fan he locked eyes with as well. Even still, he had to prepare to face the noise.
"And I had to mentally prepare for the amount of, 'Oh my gosh, but you main-evented WrestleMania.' 'Oh dude, you main-evented WrestleMania.' I kept hearing, 'You already won.' And even some of my close friends, I wanted to just jab right in the jaw," Rhodes admitted. "Like, no. All I found out from main-eventing a WrestleMania is I want to do it again and I have to win. Like it's a sickness, you know? Like, you got this high and for it to go like that, I can't accept it. I can't allow it."
As always in the world of WWE, where one journey ends, another quest begins.
Rhodes Is Hopeful The Path Continues After SummerSlam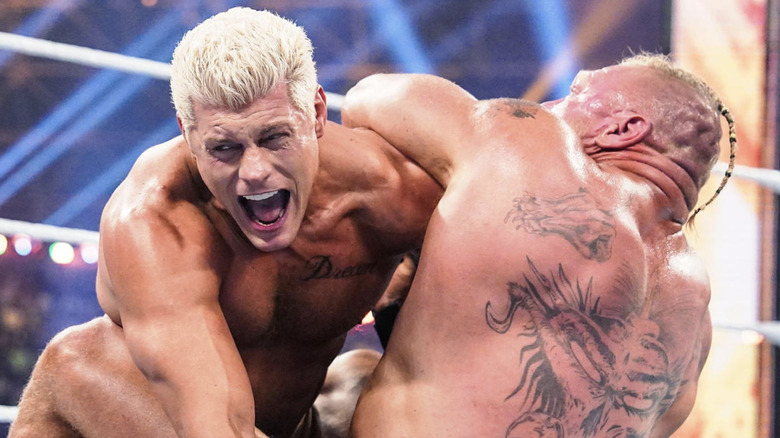 WWE
During the first episode of "WWE Raw" after WrestleMania 39, Rhodes was attacked by Brock Lesnar without reason.
"And then my world filled up the next day. I jump into the thing with Brock Lesnar," Rhodes continued. "So again, I feel like I'm stuck. I'm stuck there. I'd love SummerSlam to be the moment that's like, 'Hey, move it forward.' Hopefully defeating Brock Lesnar, and without saying anything, without doing this little number around the wait, let them know the thing I came back for, we're still on the path. We're still on the path. And I want to be confident about it in the best of ways because you rode with me all the way to WrestleMania in Los Angeles and hopefully they can ride with me to wherever it is and wherever we go next."
"The American Nightmare" also revealed that several WWE higher-ups reached out to check on him and warned him not to read social media. Luckily with being so busy, he didn't think to go online, but he was surprised to learn how frustrated fans were with his loss to Reigns.
Cody Rhodes Is Enjoying The Bloodline Storyline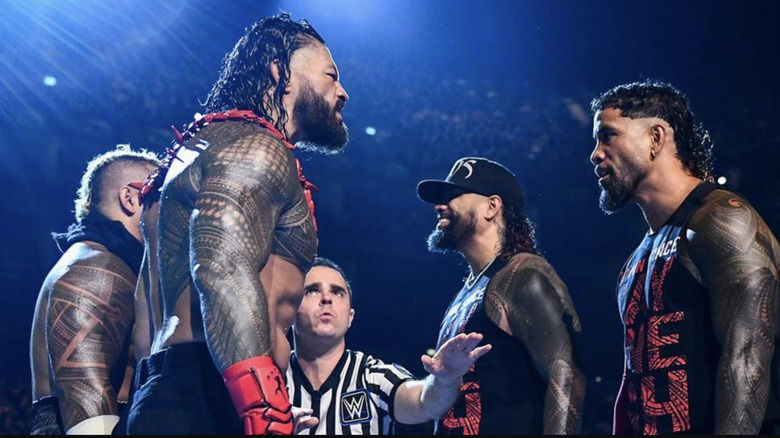 WWE
Rhodes didn't "finish the story" on April 2, and now The Bloodline storyline has only picked up steam in the months since. In hindsight, Rhodes believes he might be somewhat of a fortune teller.
"I've enjoyed watching what The Bloodline is doing," Rhodes admitted. "And I talked to Roman in the ring face-to-face, I believe it was the week before WrestleMania. And I now look back at that interview and feel like I am some sort of fortune teller. Because everything I said in it, minus me beating him, has happened in terms of the cascade of events that have fallen apart with the actual Bloodline, and Paul Heyman gets super-kicked the other day. It's just all collapsing right in front of us for our viewing pleasure."
Rhodes recalled taking offense to Reigns saying, "We're only in the third inning here," after the WrestleMania 39 main event. He doesn't believe WWE revolves around "The Tribal Chief" anymore and that he's personally in a different inning, so to speak.
"I wasn't in the third inning. I felt like that was the bottom of the ninth for me," Rhodes said. "And hey, maybe there was so much wisdom to what he said. But yeah, that was a — I don't even know how to describe it — the feeling of loss was the largest I'd ever felt in my career. And then the feeling of, 'What do you do?' That's why I kept wanting to look people in the eyes and communicate to them, 'It's going to be okay.'"
If you use any quotes from this article, please credit Sports Illustrated with a h/t to Wrestling Inc. for the transcription.