Two Injured AEW Stars Are On The Mend, Training To Return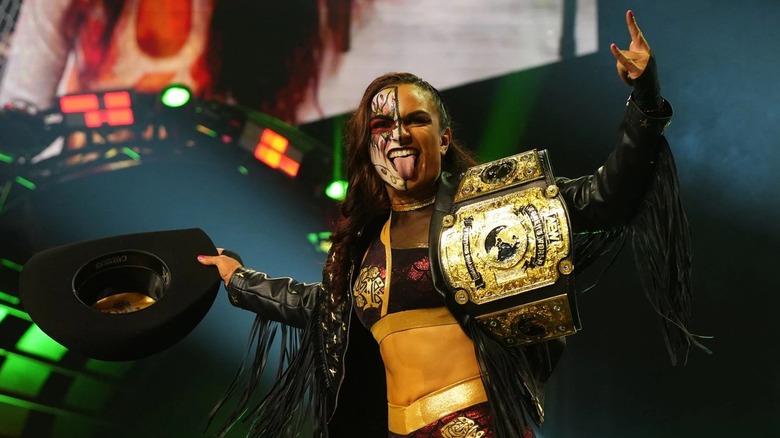 AEW
Injuries are as much a part of professional wrestling as the ring, the ropes, and the turnbuckles. More people than you realize are working hurt, but sometimes competitors suffer from ailments that they can't just walk off. However, after taking the necessary time to heal and recover, it appears that two of AEW's finest are on their way back to the squared circle. According to the Wrestling Observer Newsletter, Thunder Rosa and Santana are currently training for their in-ring returns. While there are currently no details regarding timetables, the report does note that Rosa has been training with Shoichi Funaki in San Antonio, Texas to prepare her for the fierce competition that awaits her in the AEW women's division.
Since sustaining a gruesome knee injury in a Blood and Guts match, Santana has been on the shelf for a year. But now that he's on the mend, there are still questions regarding his status with AEW and his Proud and Powerful tag team partner Ortiz. In terms of the promotion, It's said that they have continued to pay him during his injury despite his deal supposedly expiring last summer. As for his long-time ally, the multi-time tag team champions had a personal falling out and haven't been on speaking terms for some time.
Thunder Rosa was the reigning AEW Women's Champion in August 2022 when she was forced to relinquish the title and step away from the ring in order to deal with a back injury. Since then, whenever she wasn't doing some kind of rehab or undergoing a procedure, she was staying connected to the business by contributing to "Busted Open Radio" and AEW's Spanish broadcast team. Though it's been a long and tedious process for both of them, we look forward to seeing Santana and Thunder Rosa back in the ring sooner rather than later.