Eric Bischoff Breaks Down The Issues With WWE SummerSlam 2023 Main Event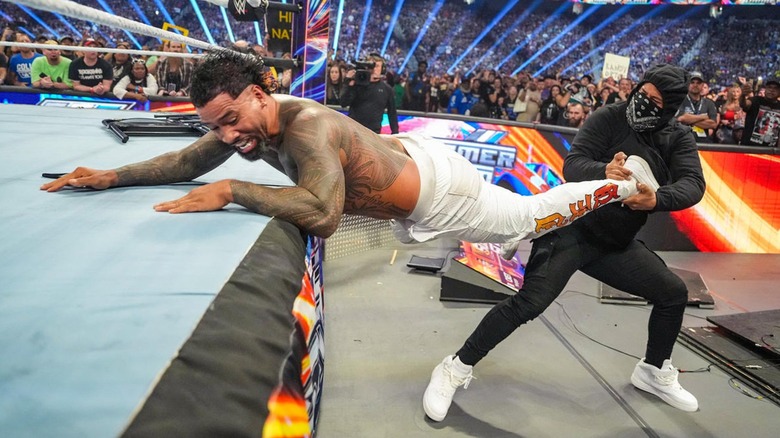 WWE
While the recently-concluded WWE SummerSlam set all sorts of financial records, the finish to The Tribal Combat between Roman Reigns and Jey Uso was largely criticized by fans and pundits alike, with many arguing that Jimmy Uso turning on his twin did not feel like the natural progression in the Bloodline storyline. 
WWE Hall of Famer Eric Bischoff echoed similar sentiments on his "83 Weeks" podcast recently when asked if he would have scripted a different finish to Reigns vs. Uso.
"I was disappointed," Bischoff admitted. "The expectations have been so high for anything Bloodline-related because it's been so awesome for so long. This wasn't, this was maintenance, [and] this didn't advance anything in my opinion. Technically, it did, but for me, just in terms of emotion and interest and reaction, my visceral response was I was bored. I did not enjoy this match at all."
Bischoff then stressed that the finish to Tribal Combat did not whet his appetite for this week's "WWE Raw" or "WWE SmackDown," which would have otherwise been the case after a major angle at the end of a premium live event. He added that the angle "checked a couple of boxes" but "did not move the needle" enough for him to remain emotionally invested in the storyline. That said, Bischoff was quick to admit that WWE creative still had the opportunity to regain his interest within the next month or so. 
"In a month, I could look back and say, 'That was a dumb thing to say because look what they're doing now,'" Bischoff continued. "As it stands now, I was like, 'Are you kidding me?' I've been talking up this Bloodline story for months. I told everybody — and I mean it — that the Bloodline storyline is, by far and away, the best story that's been crafted for professional wrestling in any of our lifetimes."
Eric Bischoff Has A Message For Roman Reigns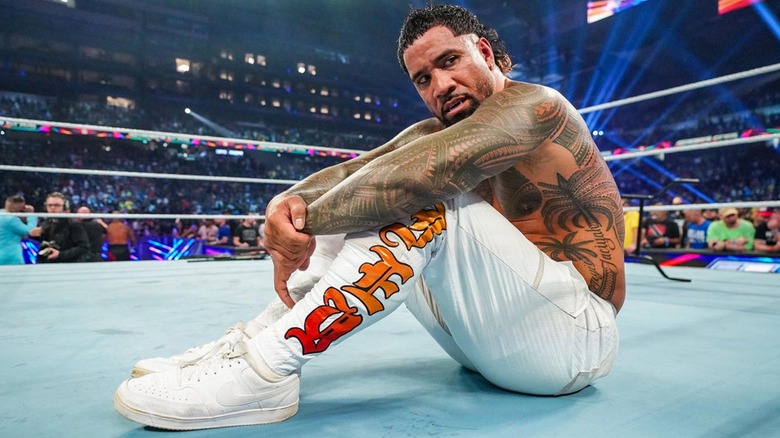 WWE
An optimistic Bischoff then offered suggestions on how WWE could reignite his interest in the Bloodline saga, imploring Reigns that "now was not the time" for him to "take his foot off the gas" and prepare to transition to Hollywood, as has been rumored for years. Bischoff added it that was Reigns' turn to repay the WWE for building him up as the biggest star in the business. 
"If your goal is to end your career in the next 12 to 18 months and move on to Hollywood, commit now more than ever," Bischoff told Reigns. "If that means working more often, to keep the audience engaged, do whatever you have to do. But I really hope Saturday night [SummerSlam] was just a blip on the radar."
Over the past few weeks, some fans have compared the civil war within The Bloodline to that nWo Black & White versus nWo Wolfpac, a storyline that was written by none other than Bischoff. When asked if WWE was headed for a Jey-led faction against a Reigns-led faction story, Bischoff gave WWE suggestions on how to elevate the status of Jey. 
"I'm tired of Jey being a little puppy," Bischoff said. "I'm tired of him being a whipping boy. Jey's gotta get some balls. I don't want him to be the scolded puppy anymore."
Bischoff would offer another suggestion to reignite the Bloodline storyline, laying out the possibility of Sami Zayn returning to the fold to help Jey in his war against Reigns & Co. 
"Maybe Sami is the catalyst that can help Jey find his spirit, his spine," Bischoff stressed. "Because if you can get a fired-up and confident Jey ... give me someone that says, 'F–k it, I can't take it anymore. I'll do whatever I have to do to beat you.' Let's watch that story and maybe that's just me."