Dax Harwood & Cash Wheeler Discuss The Possibility Of CMFTR Vs. The Elite In AEW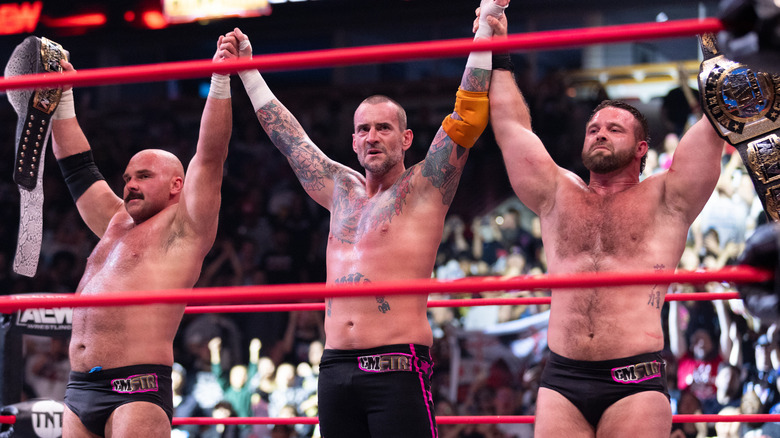 AEW
Ever since the infamous backstage brawl following AEW All Out last September, fans have been clamoring to see CM Punk and FTR face Kenny Omega and the Young Bucks of The Elite. Speaking with DAZN Wrestling, Dax Harwood and Cash Wheeler of FTR are both hopeful the match will happen, but acknowledge that it's impossible to say for certain.
"I think if the cards fall in the right place and, you know, the story's right, and the opportunity calls for it, then hell yeah we can do it," Harwood said. The AEW World Tag Team Champions are set to face the Young Bucks later this month at AEW All In, but adding Punk to the equation complicates matters.
"I mean, it's hard to know with all the moving parts that are involved," Wheeler said. "I'm not speaking for anybody, but I think wrestling is all about making the most money for yourselves and for the company you work for, and I think everybody here all agrees with that. And the more time passes, the more likely I think it is that we can get there, but you never really know, and I don't want to say yes, but I hope so."
While only pieces of information have trickled out in the months since the altercation, likely due to the signing of non-disclosure agreements, it seems as though most of the animosity lies between the Young Bucks and Punk. Omega and Punk reportedly spoke cordially after the incident, possibly leaving the door open for a singles match between the two down the line. For now, it remains to be seen if the two groups ever fully put aside their differences and share the ring in a six-man tag.