Eric Bischoff Predicts Big Trouble For AEW Collision When College Football Kicks Off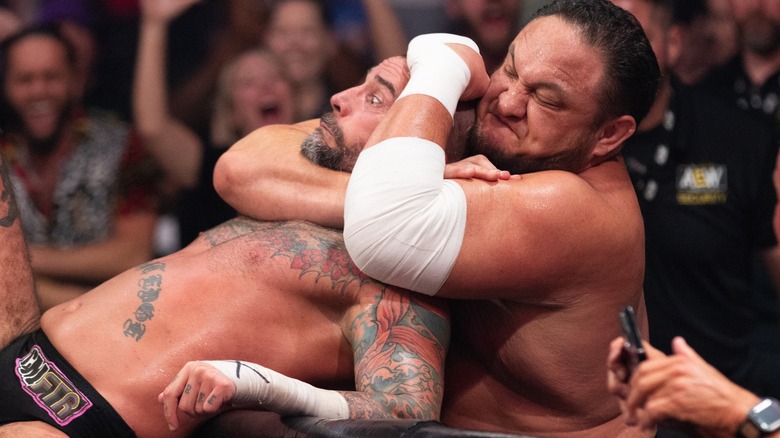 AEW
WWE Hall of Famer Eric Bischoff is convinced that the upcoming NCAA Football season, which gets underway August 26, does not bode well for "AEW Collision" from a ratings standpoint. 
Speaking on his "83 Weeks" podcast, Bischoff sounded off the alarm bells on AEW's inability to retain viewers on a week-to-week basis. 
"They went from 750,000 viewers two weeks ago, or whatever it was, down to a little over 400,000 ... because of pre-season football that nobody really gives two s–ts about," Bischoff said. "If 'Collision' is that susceptible to pre-season football, they're gonna get killed by college [football]. College Football is becoming more and more popular ... they're gonna get crushed."  
Bischoff predicted that "Collision" was more likely to draw 300,000 to 350,000 viewers while going head-to-head with College Football. "I definitely think it's going to hurt them," he added.
Further to Bischoff's point, the viewership for "Collision" has indeed fluctuated considerably since its premiere episode on June 17. After starting off with a strong 816,000 viewers, the show sunk to 452,000 viewers on July 1, only to bounce back to an impressive 739,000 viewers for the July 22 episode headlined by MJF and Adam Cole vs. FTR. After hitting an all-time low of 417,000 viewers on August 5, the show rebounded slightly with 476,000 viewers on August 12. As such, it's hard to predict how "Collision" will fare against NCAA Football, a favorite Saturday pastime of Americans for several decades. 
This coming Saturday, "Collision" will go head-to-head against games such as USC vs. San José State and Louisiana Tech vs. Florida International. Several other games airing earlier in the day would likely have finished by the time "Collision" goes on the air on TNT, starting at 8 pm ET.