Why Booker T Wants To See WWE's Nia Jax Return & 'Do Something Big'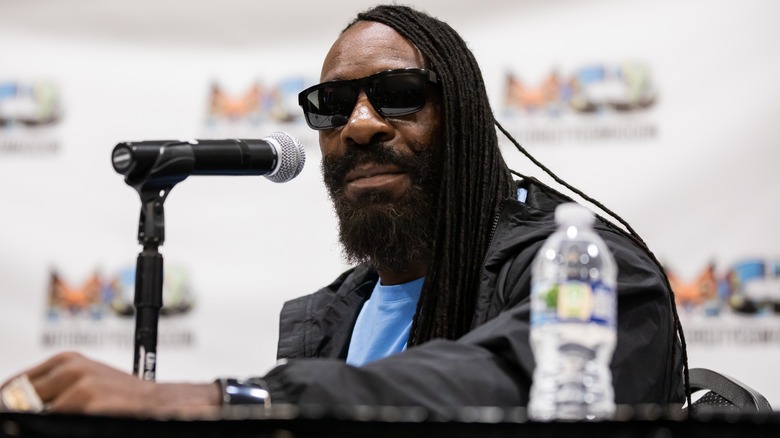 Brandon Nagy/Shutterstock
Ever since Paul "Triple H" Levesque assumed more power last year following Vince McMahon's brief "retirement," WWE has been bringing a lot of former names back into the fold. And recently, rumors suggested that Nia Jax may be the latest former WWE star to become a current WWE star, something that "NXT" commentator and two-time WWE Hall of Famer Booker T would be just fine with. On the latest episode of "The Hall of Fame," Booker stated his reasons as to why a Nia Jax-WWE reunion would be a good thing.
"I don't think we got a chance to see enough of Nia Jax when she was around," Booker said. "I thought Nia Jax was that, like, Godzilla, that was just going to walk the earth and pummel everything in front of her. Just destroy everything that – I think that if Nia Jax gets a championship, she'll have it forever. It's one of those types of deals. So yeah, I would love to see Nia Jax come back and do something big."
For her part, Jax has played coy with the rumors about a potential WWE return, saying recently that she was just "hanging out" and focusing on pilates. The former "Raw" Women's Champion hasn't wrestled at all since her WWE release two years ago, aside from her one-night-only return to the company earlier this year when she competed in the women's Royal Rumble. Jax has since stated the match gave her the wrestling bug again, to the point she would later admit she'd consider working for WWE's competitor, AEW if she were to get an offer.
If you use any of the quotes in this article, please credit "The Hall of Fame" and provide a h/t to Wrestling Inc. for the transcription