WWE NXT 8/22/2023: 3 Things We Hated And 3 Things We Loved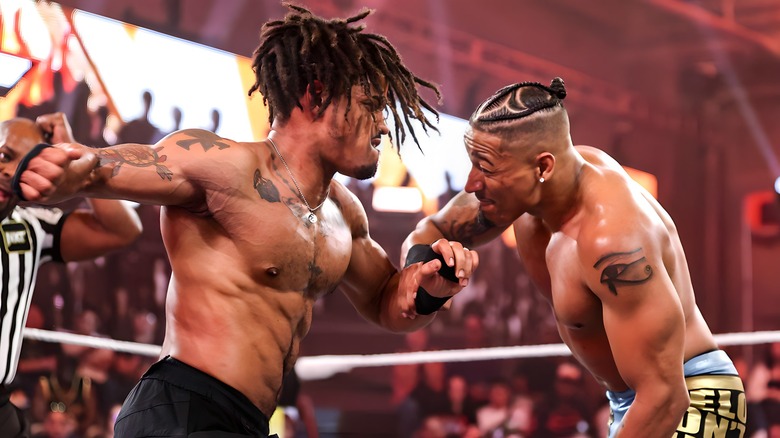 WWE
Welcome to Wrestling Inc.'s unmissable review of "WWE NXT" — the last one of the summer! Well, not really. Technically next week's episode of "NXT" will be the last episode of the summer. But this was "NXT" Heatwave, a special event featuring two championship matches, a smattering of grudge matches, and The Judgment Day! It actually included so much stuff that we can't talk about it all, so we will not be discussing the following:
The introductory video package narrated by The D'Angelo Family (loved it, had a great time with it, no room for it)
Nathan Frazer vs. Noam Dar for the Heritage Cup Championship (we actually really, really liked this match, but again, there was other stuff we wanted to write about more, and the whole Heritage Cup thing is just weird, dumb fun, as opposed to some of the truly competent storytelling going on elsewhere — that said, Noam Dar is great)
That said, everything else is on the table! You can find the bare bones match/segment results via our live coverage, but in this space, it's time for three things we hated and three things we loved about the 8/22/23 episode of "WWE NXT."
Loved: Thea Hail makes a new friend
So yeah, we could have talked about the Heritage Cup match here, but sorry, when a major development happens in the Chase U story, we're going to write about it. In this case, the major development is that Chase U's Thea Hail, who is currently very upset with her teacher and stablemate, Andre Chase, has been approached by her most recent opponent, Jacy Jayne. Far from acting like the heel we know her to be, Jayne was nice to Hail, complimenting her and telling her that she'll get over other people disappointing her, because people like them always do. Thea seemed very receptive to the idea as Jayne walked away.
This is brilliant. It's exactly what the Thea Hail character needed right now — someone from outside Chase U to tempt her away by trying to be her friend. Because of course she would. What do you do when a ferocious bad-ass who also happens to be an aggressive but naïve extrovert loses faith in her mentor figure, and you happen to be an evil manipulative monster? You take his place.
This could go all kinds of different directions, and most of them are interesting. And we're finally doing something new with Jayne, who has had nothing going on, really, since turning on Gigi Dolin. 10/10, Chase U maintains its place alongside The Bloodline and MJF vs. Adam Cole as the holy trinity of current wrestling storylines.
Hated: Who could have seen this coming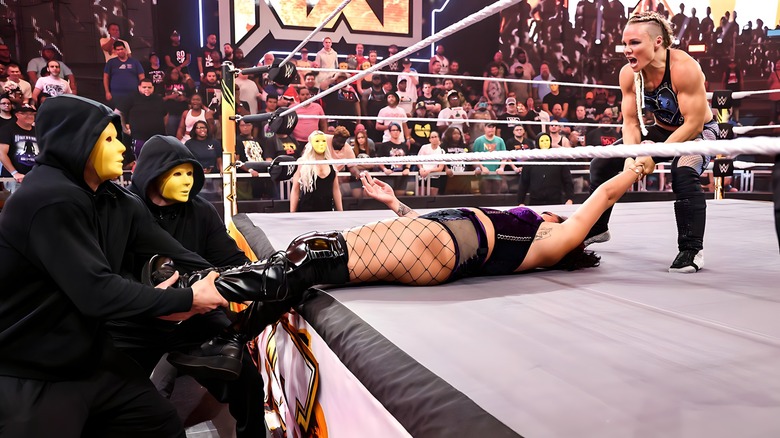 WWE
You know what "NXT" storyline could have used a chapter about the female member of the group being tempted to join the dark side? Schism vs. Diamond Mine. It seemed like they were all set to go there at one point, with Joe Gacy and his crew trying to convert Ivy Nile following the banishment of the Creed Brothers, but that lasted for about one episode before going away. Now, the most boring version of this story is getting multiple segments on a single episode, including a pretty rough match between Nile and Ava Raine, Ava being "rescued" by two mask-clad Schism devotees and carried off to ... wherever they carried her off to, and then the reveal — which we could still have seen coming after this story made us stab our eyes out — that the two devotees were actually the Creeds in disguise. Shocking.
And now they want a re-match with the Dyad to get their "NXT" jobs back, which they will win, because it's unclear why they got written off TV in the first place, and honestly we're just sad that Zach Gibson is still here pretending to be a murder hippie instead of wrestling in Wembley Stadium this weekend. Let's please just end this feud and move on to literally anything that doesn't involve the Schism.
Loved: Rhea Ripley breaks a sweat for once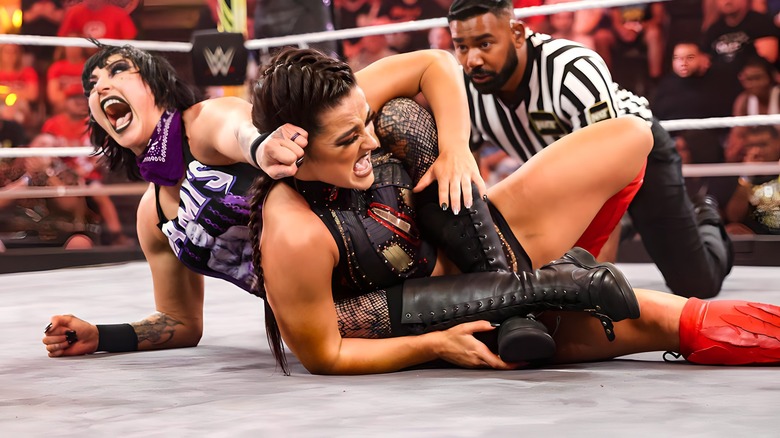 WWE
There's been a lot of talk lately about Rhea Ripley — how her Women's World Championship run has gone, the lack of meaningful challengers on "WWE Raw," the way she beats her opponents in short order, resulting in short women's matches, etc. Which makes it particularly amazing that the day after her two-minute match with Candice LeRae sparks the debate, Ripley can come down to "NXT" and make her hand-picked challenger/protégé, Lyra Valkyria, look like a million bucks. Aside from her excellent "Raw" title match against Natalya, Rhea's longest match since winning the championship at WrestleMania 39 was an "NXT" singles match against Valkyria, and Heatwave saw them in mixed tag action, with Ripley and Dominik Mysterio teaming up against Valkyria and Dragon Lee. Not only did Valkyria continue to look more than capable against Ripley, the finish of the match directly played into two different storylines at the same time. When Ripley's Payback challenger, Raquel Rodriguez, attacked her and drove her backstage, furthering their feud, Mysterio was suddenly helpless without Ripley's assistance, resulting in him getting pinned by Dragon Lee. We'd presume next month's No Mercy PLE would be the time and the place for Ripley to be neutralized again, resulting in the "NXT" North American title returning to an "NXT" star, be it Lee, Mustafa Ali, or someone else.
So yeah, very economical use of storytelling time, and a solid match overall. We really liked the way this was put together, and it was nice to see Ripley actually wrestle for a reasonable stretch of time.
Hated: No, wait, stop cutting promos, save yourselves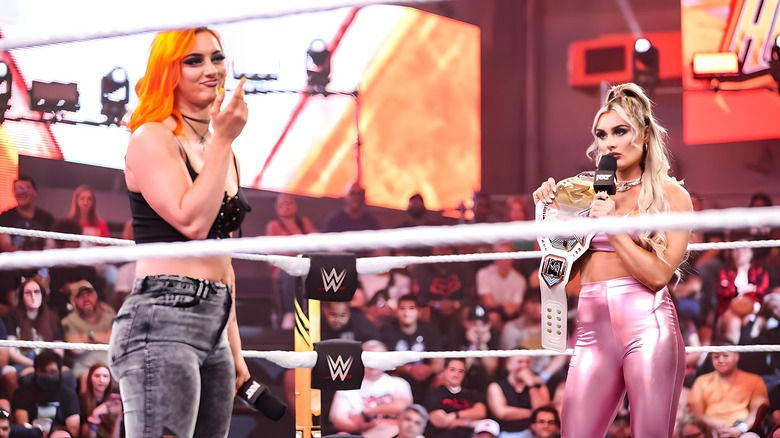 WWE
"NXT" boasts one of the deepest and most talented women's divisions in American wrestling at the moment, which means we'd really like to see them, you know, wrestle. Especially for the one women's title still left on the show after the tag belts were pointlessly absorbed by Shayna Baszler and Ronda Rousey. But no, sadly the extent of women's wrestling content we got on Heatwave was the mixed tag and Ivy Nile vs. Ava Raine. In terms of the actual title picture, we got a promo parade, and it was rough times, y'all.
It's not even so much that any of these women are particularly terrible at promos (except maybe Kiana James). "NXT" Women's Champion Tiffany Stratton is fine on the mic. She could use more practice, but her character helps anchor her and she usually does a decent job, though perhaps less so Tuesday night. Blair Davenport can cut a decent promo when she needs to. Gigi Dolin was actually the MVP of the entire segment, unless you want to give it to Roxanne Perez, who finally ended it by attacking Stratton. The problem here was less the fact that the women were talking and more the content of their promos, which was just a bunch of childish insults and winking references. It honestly seemed like something that would have been more at home on "AEW Dynamite," and it didn't work at all for "NXT." You'll see a lot of the blame for this put on the performers, but they did their best with what they had, and while only Dolin demonstrated the skills to actually make something out of it, it would have taken a lot of skill to make t actually good.
Hopefully whatever this turns into gets better once they step into the ring to wrestle instead of just talk. Especially if it involves Becky Lynch!
Hated: Baron Corbin achieves his final form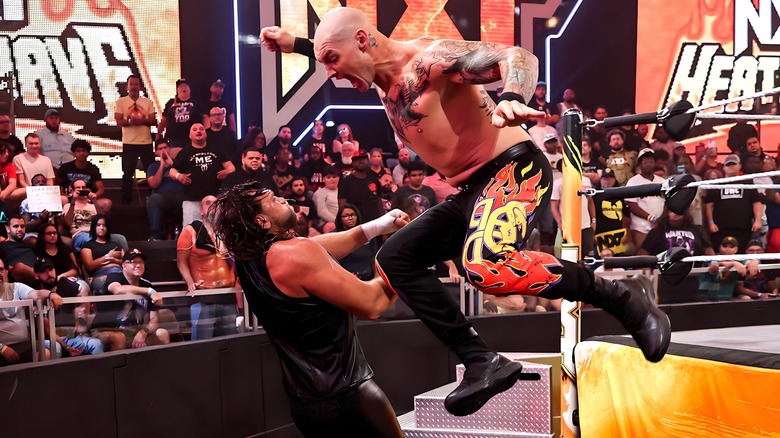 WWE
We actually had fun with the Baron Corbin vs. Von Wagner fight that never actually made it into the ring — particularly the earth-shattering spear Bron Breakker laid on Wagner when he decided to show up and get involved. But we had a really had time getting past Corbin's latest look, which now features tights with the word "burn" and a bunch of flame designs, because, you know, "burn the ships," right? Like, forget where you come from, or something? Corbin has read the "Game of Thrones" books too many times and was really into the legend of Nymeria? Just kidding, it's really because either Corbin the performer or Corbin the character (or both) is officially having a midlife crisis.
We have to admit, though, this is kind of the natural evolution of the whole gimmick refresh Corbin has been doing since he got back to "NXT," right? He ditches the old Lone Wolf gear, he ditches the Sad and Happy Corbin stuff, he ditches King Corbin's crown, he goes on a spirit quest where he finds himself staring at *gasp* himself! Like, of course the end result of that was "I'm now just a generic bald white guy with cool flames on my pants," because when you strip a wrestler of any potentially interesting character, that's all they are, most of them. Just tall, bald white guys with flames or skulls or kanji, the most basic, unappealing presentation of "trying to be cool." Good luck with that, Baron. Hope Bron spears you next.
Loved: The Great NXT Love Triangle is back!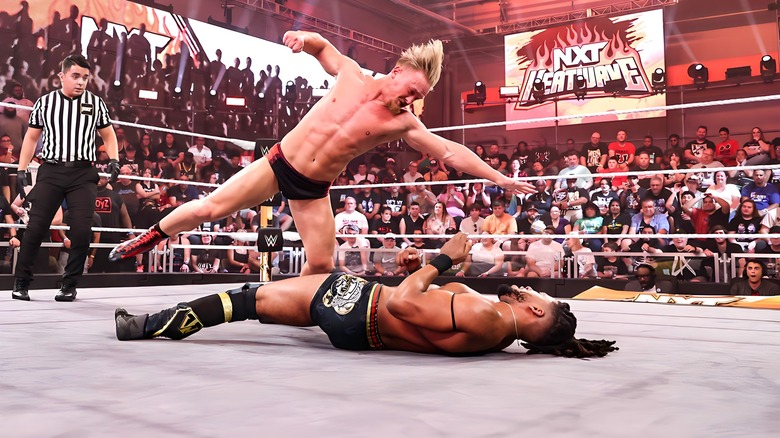 WWE
Let's start and the end: Carmelo Hayes vs. Wes Lee ruled. It ruled. Absolutely incredible match between the first two Black men to ever face one another for the "NXT" Championship, just tremendous through and through, from the entrances to the final bell, and especially the INSANE announce table spot. That's almost the only thing we can say about it, really — it's great. You should watch it. Case closed.
What we loved, though was the stuff that happened before the main event. Because before the main event, former Hayes associate Trick Williams had the best match of his career in a losing effort against Ilja Dragunov. And then Dragunov went backstage and started talking to Wes Lee about how he's going to challenge Hayes again, offending Lee in the process. And then Hayes and Williams had a backstage segment in which Hayes hinted that his previous title defense against Dragunov had been tainted by Williams, who got defensive for a moment before Hayes hastily back-tracked. And then Hayes won his first title match without Williams by his side.
In the short-term, we might be getting Dragunov vs. Lee, and that should be amazing. But in the long-term ... THE ROMANCE IS BACK. We were worried "NXT" was stepping away from the Hayes/Williams/Dragunov love triangle before it even properly got going, but fortunately, it looks like those waters are only getting deeper from here. If this is building toward a triple threat title match between the three of them ... here is all our money, please take it.