Booker T Recalls Whimsical Prank Christian Played During WWE House Show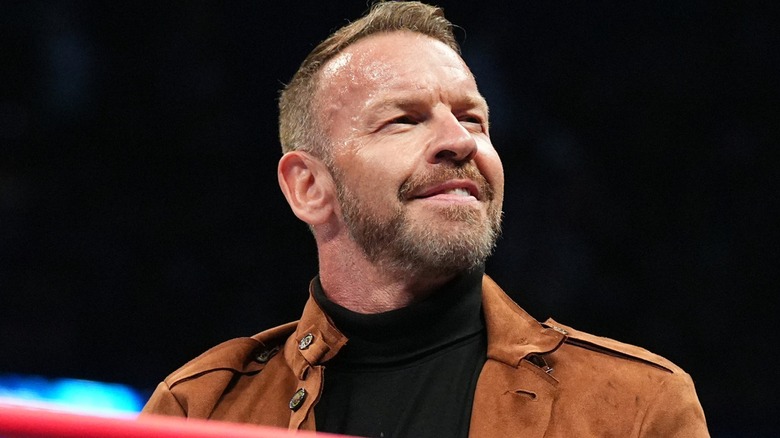 AEW
While Booker T and Christian Cage were never great rivals, the two still have a bit of history, having worked together in WWE and then later TNA — both as tag team partners and as opponents. They often faced on another on the house show circuit, where Christian, known for being a bit of a prankster, would have the freedom to have a bit of fun at Booker T's expense. On the most recent episode of "The Hall of Fame" podcast, Booker discussed how Christian often got him to break character and revealed what, in his opinion, was the funniest time Christian got him to do so.
"Christian one time ... I remember being on a house show, and I had a flight to catch," Booker said. "And Christian was in the ring, and we're working, I'm like 'Bro, let's go home.' He's like 'Come on, just one more spot. One more spot.' We do the spot. 'Let's go home.' He goes 'One more spot, one more spot.'"
"He did this trying to make me miss my flight," he continued. "And I'm so mad, but I'm laughing at the same time. It's just one of those type of deals. Christian was one of those guys ... it's been many of days I've gone to tie my shoes, and I'm laughing so the camera couldn't see."
These days, Christian continues to pull pranks in AEW, including the big one where he claims to be AEW TNT Champion — despite the title being held by his charge, Luchasaurus. However, Christian's "reign" may be on borrowed time as Luchasaurus defends "their" title against Darby Allin, who defeated Cage on "Collision" last Saturday, in less than two weeks at All Out.
If you use any of the quotes in this article, please credit "The Hall of Fame" and provide a h/t to Wrestling Inc. for the transcription