MJF Says His AEW Contract Still Expires On January 1, 2024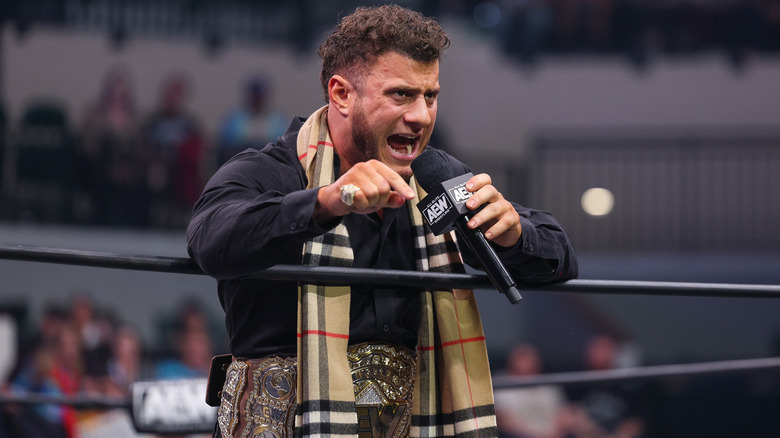 AEW
MJF, one of the most coveted stars in the pro wrestling industry right now, has revealed when his current AEW contract will expire and also how much he's expecting in his new contract.
The AEW World Champion and his tag team partner/opponent Adam Cole recently appeared on "Hot Ones" ahead of their match at All In. MJF was asked the expiry date of his contract with AEW and what his price tag will be, to which he replied that his new contract should be at least seven figures.
"January 1, 2024, they better back up the goddamn Brinks truck, okay pal?" MJF said. "Realistically, I know that there's a lot of money that's going to be thrown my way from both sides, I'm not accepting anything under 7 figures. I won't even I won't even make eye contact with a contract that's under 7 figures."
Reports sometime last year revealed that MJF earns more than $1 million a year in his current contract with AEW. Over the last year or so, MJF has openly said that he would be interested in joining WWE, even on AEW television, which he did earlier this year on "AEW Dynamite." 
MJF isn't the only AEW star whose contract will expire in the next few months. Dustin Rhodes' contract will reportedly expire in September 2024, while commentator Jim Ross' current AEW contract will come to an end soon as well. Sting, who returned to a pro wrestling ring with AEW in 2021, has teased retirement when his AEW contract expires this year.
MJF has a busy All In show this Sunday as he will not only team with Cole to face Aussie Open for the ROH World Tag Team titles, but also face his partner in the main event of the show and defend his AEW World title.