AEW World Champion MJF On What He Learned From Wrestling Bryan Danielson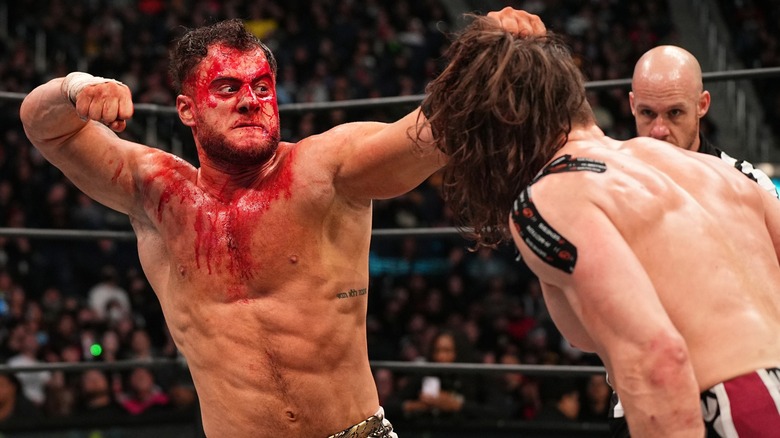 AEW
While some have argued that MJF's nine-month stint as World Champion — featuring only five title defenses until now — has been underwhelming, the bright spot from the reign being his lengthy rivalry with Bryan Danielson that culminated in a 65-minute Iron Man match at AEW Revolution earlier this year. 
The match was widely praised by not just fans and wrestlers, but even the performers themselves, with MJF proclaiming that the match cemented him as "a complete wrestler" and allowed him to make "the biggest statement" of his blossoming career. 
In a recent interview with "Sports Illustrated," MJF — admittedly a student of the game — explained all the tricks of the trade he learned from the veteran Danielson during their feud, lessons that he plans to call upon for the rest of his career. 
"I will say this about Bryan –- I learned far more inside of that match, bell to bell, than I'd ever learned in the history of my career in a match," MJF said. "I wanted to kill that mother—–, but I also learned what made Bryan Danielson the American Dragon. And that made me levels better. We have zero in common, and I mean zero, but I learned a lot. And that was the first time we'd ever shared a ring together, which too many people gloss over."
MJF's next title defense comes against rival-turned-friend Adam Cole at the All In pay-per-view in London, England. Their first encounter, which took place on June 14, ended in a time-limit draw but was not contested for the AEW World Championship. According to oddsmakers, MJF is favored to retain his title and continue his self-proclaimed "reign of terror" over AEW.