Former WWE Star Mercedes Mone Was Reportedly Expected To Compete At AEW All In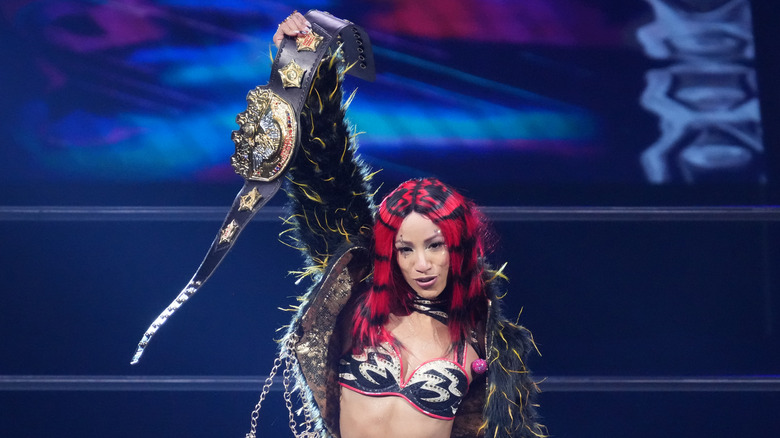 Etsuo Hara/Getty Images
Mercedes Mone was shown in the Wembley Stadium crowd on two separate occasions at All In, but AEW originally had bigger plans for the NJPW/STARDOM star, according to the latest Wrestling Observer Newsletter. As per the report, Mone was slated to wrestle at AEW's historic pay-per-view in London, England, but those plans were nixed after she suffered an ankle injury during the finals of the NJPW Strong Women's Championship tournament in May. 
The report added that Mone is "probably going to do at least some dates" with AEW upon her return from injury, alluding to the fact she was shown twice on camera at All In and the AEW announcers acknowledged her presence. Furthermore, AEW boss Tony Khan broached the subject of Mone during the post-All In presser, noting that AEW could not bring her in as she was not medically cleared. Khan also expressed excitement over "a lot of potential things" that could transpire if Mone were to join the AEW women's roster, citing NJPW's positive experiences of working with the world-renowned megastar. In his subsequent media call earlier this week, Khan was once again asked about Mone potentially joining AEW, and he reiterated his promotion's interest in bringing in the former WWE WrestleMania main eventer — when she is cleared from injury. 
The Wrestling Observer further noted that Mone's foot was in "a full cast" during her AEW sighting, and she was spotted moving in a wheelchair at London airport. Sources close to Mone have reportedly remained quiet about the severity of her injury, potential surgery, and recovery timetable. Despite rehabbing her injured ankle, Mone has reportedly "been in talks with AEW," and she has also been traveling to Impact Wrestling shows to support her friend Trinity Fatu.