Britt Baker Reacts To Finn Balor Stomping On Pittsburgh Steelers Rally Towel At WWE Payback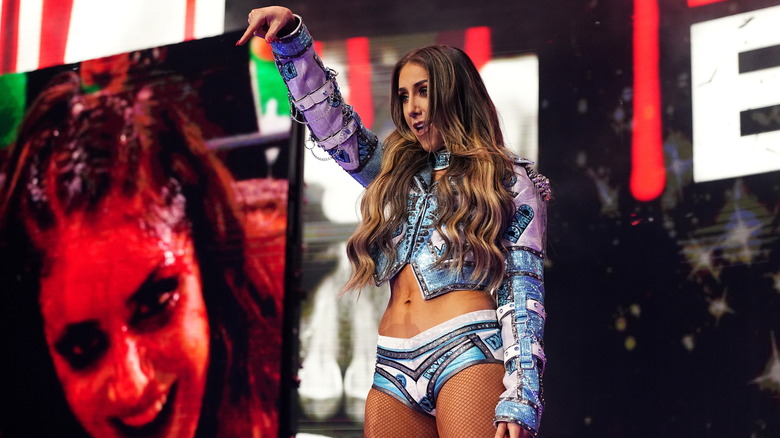 AEW
WWE held Payback in Pittsburgh, PA on Saturday night, and, in an attempt to rile up the Steel City crowd, Judgment Day's Finn Balor trampled the city's signature "Terrible Towel," the yellow and black souvenir rag that shows support for the local Pittsburgh Steelers NFL team. Balor didn't just draw the ire of fans in the PPG Paints Arena but also AEW's Dr. Britt Baker DMD.
"Wait," Baker wrote on X (formerly Twitter). "WHO stomped on the terrible towel?!!!" The tweet was punctuated with a GIF of cop cars pursuing a perpetrator from the popular program "Malcolm In The Middle."
Wait..... WHO stomped on the terrible towel?!!! 🤬 pic.twitter.com/T2akIBuZ0W

— Dr. Britt Baker, D.M.D. (@RealBrittBaker) September 3, 2023
Rubbing salt in the wound of Baker and other Steelers fans, Balor's disrespect for the city's football team proved fruitful, as Balor and his tag partner Damian Priest were successful in dethroning WWE Undisputed Tag Team Champions Sami Zayn and Kevin Owens in the Steel City Street Fight, ending the proud reign of the champions, which began in the main event of night one of WrestleMania 39.
A proud Pittsburghian, Baker is not only a resident of the Steel City but also has a dental practice in the area. The former AEW Women's World Champion has been balancing her schedule between dentistry and wrestling by working Mondays and Tuesdays, leaving late on Tuesday or early on Wednesday for "AEW Dynamite" broadcasts, and then flying back to "The 'Burgh" for more dental appointments. Baker has said in the past that she's proud of her success in both fields, noting that she's had critics from both professions judging her decision to work two jobs at once, but that dentistry will be something she can rely on when wrestling is no longer a viable option.
"I can be a dentist when I'm 70 years old if I want to," Baker said recently.