Eric Bischoff Doesn't Think CM Punk Firing Is The Reason For Low AEW Collision Ratings
AEW
The decision by AEW to part ways with CM Punk earlier this month has divided the pro wrestling community, with many praising the promotion for the brave call while others have questioned the negative impact it could have on the product. After a tumultuous two-year run with the company, the 44-year-old was terminated with cause prior to AEW All Out in his hometown of Chicago, following an incident with Jack Perry backstage. 
In the wake of the incident, Tony Khan made the announcement live on the September 2nd edition of "AEW Collision" that Punk would no longer be with the company, leading to the worst ratings in the show's short history on TNT. "Collision" averaged 345,000 viewers across the two-hour broadcast, with close to 90,000 people tuning out as soon as the Punk announcement was made. According to WWE Hall of Famer Eric Bischoff, there might be more than meets the eye with the TV numbers.
"I think people are making too big a deal [out of it]. Before you jump to the conclusion that 89,000 people left because of CM Punk... I think that's a giant leap into fantasy land. It could have been for other reasons, it had nothing to do with CM Punk," he said on the "Strictly Business" podcast. "What was the lead-in for that show? That's the first thing I would want to know. I think there was a fair amount of curiosity about what is Tony gonna do? People who might not watch Collision decided to tune in and get a real-time update about what the situation was because it got a lot of press."
The episode in question faced stiff competition from the WWE Payback premium live event, as well as blockbuster college football games, leading to a decline in viewership for AEW's newest weekly program.
Eric Bischoff questions CM Punk's drawing power with AEW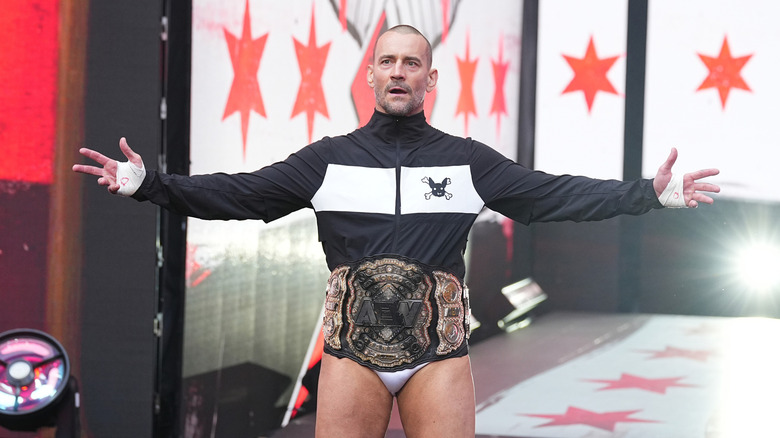 AEW
While the absence of CM Punk — who has a strong following despite his controversial antics — will undoubtedly hinder some elements of AEW, the overall nature of his tenure created more headaches than it was worth in the opinion of many within the industry. 
The Second City Saint" was responsible for a lot of AEW's financial success in regards to ticket sales, merchandise, and pay-per-view buys, but Eric Bischoff believes his drawing power on "AEW Collision" might not be as valuable as some have claimed.
"I predicted it months ago ... it opened up with 800,000 and before Punk got let go, it was bouncing around 400,000 or 500,000 viewers. It wasn't like it was setting the world on fire to begin with and we all knew that when college football became a thing, it was gonna take another big hit," he said. "I don't think Punk's departure ultimately will have as much of an impact on Collision as people think it did, because it didn't have a positive impact on the show, to begin with... he wasn't as big of a draw as people think he is."
His abrupt departure has led to the likes of Jon Moxley and The Young Bucks — three men who had issues backstage with Punk — being featured on "Collision" in the past fortnight, with Punk not expected to return to AEW any time in the foreseeable future. 
Rumors of a potential WWE comeback has also been at the forefront of the news cycle, but at this stage, there has been no confirmation as to whether Triple H and Vince McMahon would welcome him back into the fold after a messy split in 2014.
If you use any quotes from this article, please credit "Strictly Business" with a h/t to Wrestling Inc. for the transcription.