The Rock Brings The Most Socially Viewed WWE Video Of The Year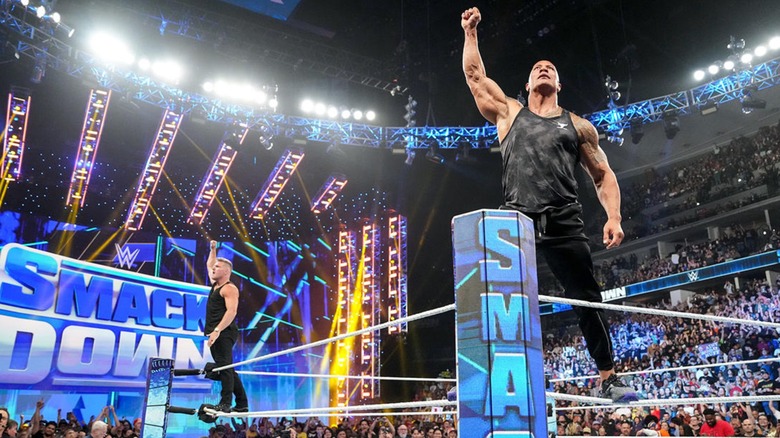 WWE
In a year that included moments such as Sami Zayn striking Roman Reigns with a chair, Rhea Ripley and Charlotte Flair putting on a wrestling clinic, and Snoop Dogg hitting the People's Elbow on The Miz, there was no shortage of viral moments that got wrestling fans talking on social media. However, all of those unforgettable incidents paled in comparison to The Rock's return on "WWE SmackDown" last Friday.
According to WWE's X account, the video of The Rock's return has already garnered over 103 million views across YouTube and social media platforms, making it "the most socially viewed video of the year." 
While WWE did not specify which video The Rock's return video surpassed, it's worth pointing out that Solo Sikoa attacking Jimmy Uso on an episode of "WWE SmackDown" in June received over 40 million views, and was earlier dubbed the most socially watched segment from SmackDown" of 2023, according to WWE.
As more fans rely on YouTube and social media to get their wrestling fix, WWE continues to benefit from the new trends. According to research conducted by Tubular Labs, the age group of 13 to 24 in the United States watched WWE videos on YouTube and Facebook for a whopping 147.1 million minutes in July — the most among all sports teams and leagues for that specific month. In fact, WWE's popularity on YouTube is reportedly 70 percent more than the nearest sports team or league. 
As of this writing, it's unknown if The Rock is expected to make any more WWE appearances in the near future. However, "The Great One" did tease the possibility of wrestling Roman Reigns at WrestleMania 40, after revealing on "The Pat McAfee Show" that the dream match was originally penciled in for WrestleMania 39 but did not take place due to undisclosed reasons.