AEW's MJF Says Perfect Wrestler Is An Amalgamation Of Three WWE Hall Of Famers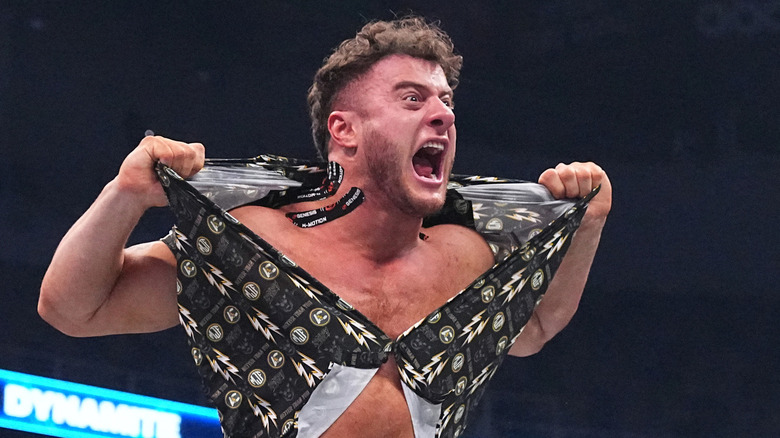 AEW
AEW World Champion Maxwell Jacob Friedman recently appeared at a New York Mets game to promote AEW, and the Long Island native took some time to answer questions for the team's official YouTube channel. When asked to combine the look, promo skills, and in-ring ability of three different performers into one to create the perfect wrestler, MJF chose three beloved WWE legends.
"[For the] look, I'm gonna go with Triple H," Friedman said. "Promo, I'm gonna go with [Roddy] Piper. ... In-ring ability, I'm gonna go with Shawn Michaels."
It should be noted that the AEW World Champion was told that he could not choose himself. If that was an option, it's likely MJF would have put himself forward, maybe even in all three categories. However, with his seemingly genuine answer, it's possible to glean some insight into Friedman's influences.
This isn't the first time MJF has cited Piper as an inspiration, having previously said the WWE Hall of Famer is the one who helped him fall in love with professional wrestling. Piper passed away in 2015 after highly-accomplished wrestling and acting careers. The wrestler and his classic "Piper's Pit" segments have had a strong influence on modern wrestling, and few of today's performers exemplify Piper's attitude more than MJF.
As for Triple H and Michaels, Friedman has talked a lot about the former and not quite as much about the latter, with the AEW star previously stating on TV that Triple H, as well as Nick Khan, would love to bring MJF over to WWE. While MJF has been largely quiet about Michaels in the past, it seems he views the 58-year-old as one of the best in-ring wrestlers of all time.