Why Adam Copeland Calls Final WWE Match 'One Of The Most Special Nights In My Career'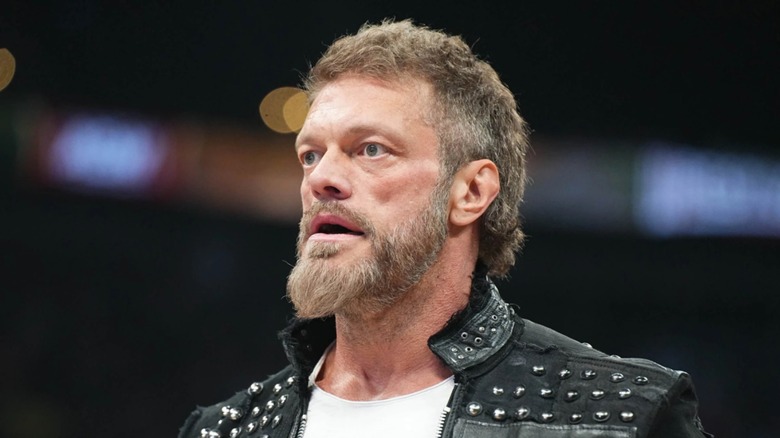 AEW
Adam Copeland, now part of AEW, is ready to embark on one last great run in his career. While he seems thrilled to be in the promotion, surrounded by younger talent and old friends like Christian Cage, it was conceivable at one point that he might not have shown up in AEW at all.
In fact, the Hall of Famer revealed during an interview with "CBS Sports" that, prior to signing with AEW, he considered leaving pro wrestling altogether, wondering if he would be able to top his final night in WWE.
"As I got closer to the end of the deal, retirement was a very, very real option," Copeland said. "It was not off the table ... I really sat with the idea of retirement because I truly thought like, 'Man, WWE gave me that night. I don't know how that gets topped.' And that's still in my brain. But I guess now it's like, 'Ok, how can I try and top it in this new environment.'"
Regarding his final WWE appearance, which saw him defeat Sheamus on a "SmackDown" episode in Copeland's hometown of Toronto, Ontario, Canada, "The Rated R Superstar" looks at that moment as the perfect ending to his time under his old persona, Edge.
"Honestly, that Toronto show was a send-off of that character and it was the perfect way for that character to go out," Copeland said. "Wrestling a guy that I've never wrestled that I always wanted to. It was just so much fun in there. That night, I'll never forget it. I'll always have that night with me. I told Sheamus that too. That will be one of the most special nights in my career, always."
Copeland's first match in AEW will take place next Tuesday when he battles Luchasaurus on "AEW Dynamite: Title Tuesday."