Booker T Explains Why He Feels WWE's Jade Cargill Could Be A 'Generational Talent'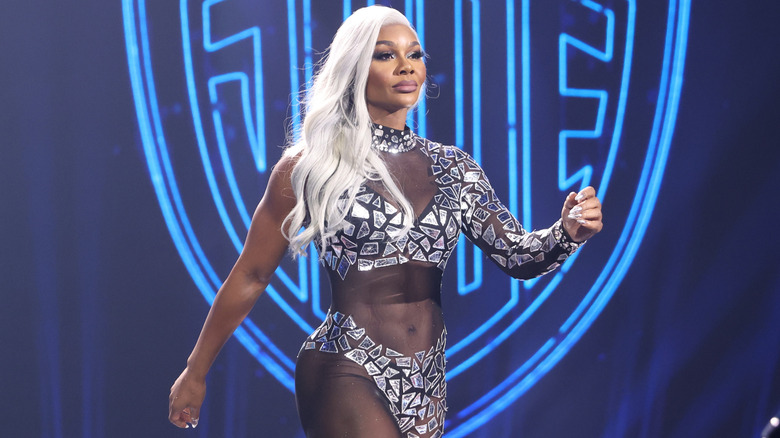 AEW
After spending the first several years of her pro wrestling career with All Elite Wrestling, Jade Cargill officially signed with WWE last week. The 31-year-old has been praised by performers across the industry as having an unbelievable amount of potential, with WWE Hall of Famer Booker T as one person who sees great things ahead for the former TBS Champion. Speaking on his "Hall of Fame" podcast, Booker provided his take on Cargill.
"I see Jade Cargill being something very, very special," Booker said. "She's a generational talent — I really feel like she can become that. I feel like, as far as star power goes, her star can shine so bright if everything is in the right order for her to actually make that happen. She can't do it by herself, [but] she definitely has to be instrumental in making something like that happen."
Cargill went without a singles loss in AEW until two matches at the end of her run. After the taping of her second loss, reports began to emerge that Cargill's AEW contract was expiring and she'd be bound for WWE.
Prior to joining AEW, Cargill had a tryout with WWE and was offered a spot within the company. However, she opted at the time to go with AEW, where she was immediately given a strong push. It's likely that Cargill would have been placed on the "WWE NXT" roster and treated similarly to most of the other talent signed at the time. A few years later, after opting to build up her name in AEW, it looks as though she is headed straight to the main roster. After receiving numerous vignettes on TV hyping her WWE debut, reports indicate that Cargill may appear as soon as WWE Fastlane this weekend, followed by tapings of "WWE Raw" and "WWE SmackDown."