Kevin Nash Explains Why AEW Can't Compete With WWE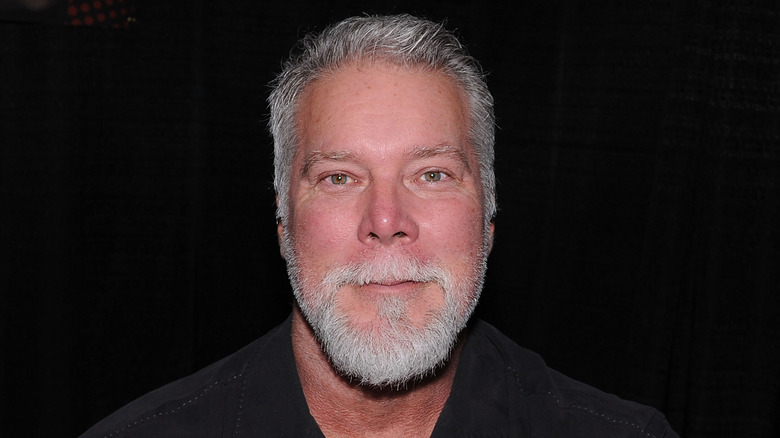 Bobby Bank/Getty Images
In the biggest showdown since "Barbie" battled "Oppenheimer" at the box office, AEW, and WWE are set to go head to head tonight, with "AEW Dynamite" moving to Tuesday for one week thanks to the MLB playoffs, putting it directly against "WWE NXT." And both shows are loading up, with "NXT" featuring appearances from John Cena, Cody Rhodes, Paul Heyman, and others, while "Dynamite: Title Tuesday" will feature Adam Copeland's AEW in-ring debut, Jay White vs. "Hangman" Adam Page, and Jon Moxley's return to in-ring action.
The head-to-head battle was discussed by Kevin Nash on "Kliq This," with the WWE Hall of Famer asked what AEW could do to compete with WWE's loaded lineup. And while Nash isn't down on AEW, he believes there's little chance of them being able to do so overall, largely because he believes WWE has too many advantages, particularly in departments like production. "They're so good at packages," Nash said. "Like the Peacock thing they did on Cody ... if they want to get you over, they can make it feel like a '30 for 30' ESPN special. They can almost make it feel like what this guy is doing is absolutely f*****g legitimate ... They have that ability."
"To me, it's just like ... AEW is the Staples Center. It's a new arena, and it's got all the bells and whistles, but all of a sudden, WWE just decides 'We're going to do our shows in the sphere. We're just going to do our shows in the sphere now," Nash continued. "That's just the way it is.' It's always going to be that way. You're never going to f*****g [compete with that], especially with 17 people in the staff."
If you use any of the quotes in this article, please credit "Kliq This" and provide a h/t to Wrestling Inc. for the transcription