Eric Bischoff Assesses Adam Copeland's Debut At AEW WrestleDream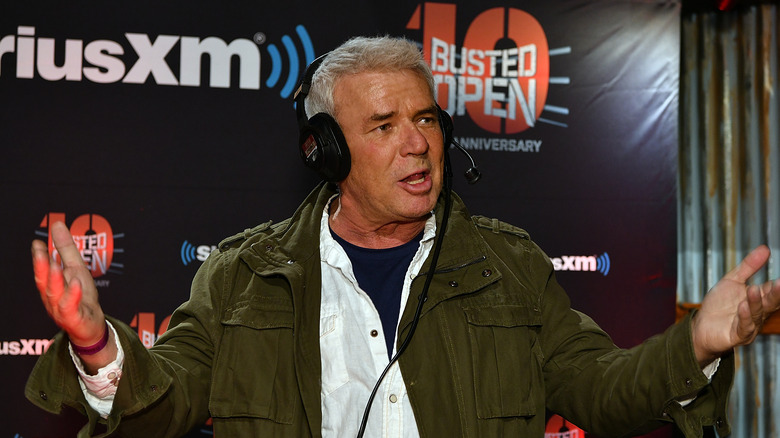 Slaven Vlasic/Getty Images
Nearly a week and a half has passed since Adam Copeland first walked through AEW's door at WrestleDream, with his first AEW match scheduled for tonight's "AEW Dynamite" against Luchasaurus. But many still want to talk about his electrifying arrival in AEW, including former WCW boss Eric Bischoff. On "83 Weeks," Bischoff delved into Copeland's AEW debut, including touching on past comments he made regarding his optimism and concerns about Copeland joining the promotion. In the end, Bischoff is happy to admit things couldn't have gone better.
"I think it was done really well," Bischoff said. "I was happy and excited to see that Adam was introduced at a pay-per-view as a surprise. And of course, the chatter was there and I don't think anyone went 'Oh my god. I never expected this.' But the fact that he wasn't booked, he wasn't advertised. It was added value, which means he's going to get an even bigger response than he'd have gotten if he had been advertised."
"It's a subtle difference in crowd reaction, but when you deliver like that ... it has a different value, and you get a different reaction. And I was very happy to see that, as opposed to the way things have typically been done. I think it definitely helps set up his appearance on television ... I don't think it could've been done any better, let's put it that way."
Bischoff Loved AEW Dynamite Angle Between Copeland And Christian Cage
Bischoff was careful not to forget Christian Cage, praising the man Copeland confronted in his AEW debut, and the man who told Copeland to "go f**k yourself," a few days later on "Dynamite." Bischoff is excited to see where things go from there, and admitted that the only thing he potentially liked more than Copeland's debut was the "Dynamite" moment, though he still has some concerns regarding how vulgar the content was.
"I loved that," Bischoff said. "On a creative level, as a fan sitting there in the venue or watching it on television, loved it. The business side of me is kind of shaking my head, but whatever. We'll see how that pans out in the long run because it is starting to get into that treacherous zone where advertisers begin to feel uncomfortable, particularly when you're targeting a younger demo."
"But hey, maybe it doesn't matter anymore. I could be mistaken. Maybe advertisers, especially on television, because it's harder and harder and harder to deliver for an advertiser, maybe the standards have changed. And if so, it won't have any effect. But I think creatively, awesome."
If you use any of the quotes in this article, please credit "83 Weeks" and provide a h/t to Wrestling Inc. for the transcription