Eric Bischoff Doesn't Mince Words On AEW Head Tony Khan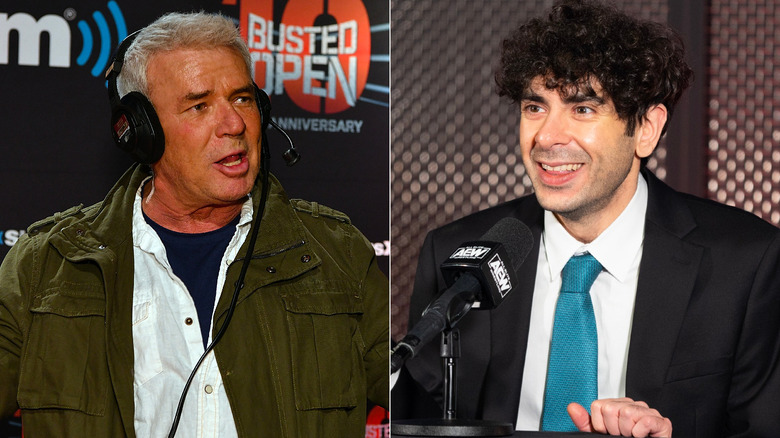 Slaven Vlasic/Getty Images | AEW
AEW CEO Tony Khan has pulled no punches on social media over the past week or so, be it directing not-so-subtle insults at Vince McMahon, Triple H, and Shawn Michaels, or taking pride in "AEW Dynamite" causing The Undertaker and John Cena to appear on a wrestling program watched by less than one million viewers for the first time in their careers. Khan's wrath has even been felt by fans who preferred watching "WWE NXT" over AEW's flagship show when the two programs were in direct competition on October 10. 
To the surprise of no one, former WCW boss Eric Bischoff has taken serious exception to Khan's behavior, suggesting that the AEW owner's combative social media posts could turn off a lot of wrestling fans on the fence about watching AEW. "I think [Khan's tweets] damage the brand overall," Bischoff opined on "83 Weeks." "It is childish, not really entertaining, not smart, and it's like his show — not compelling. It's embarrassing more than anything." 
Bischoff argues that AEW had "a lot of goodwill" among fans when the upstart promotion launched a few years back, especially among those yearning for an alternative to WWE. Fast forward to 2023 and Bischoff is convinced that Khan has single-handedly tarnished said goodwill. "I was watching their debut episode from the WWE writers' room in Stamford, Connecticut, and I'm cheering them on — because I knew that competition like that can be really good," Bischoff recalled. "And WWE was pretty stale at the time. The financials were great, [but] the product itself was flat and stale." 
'Somebody should take his phone away from him'
Bischoff believes Khan has "blown" so much goodwill by spending time taking shots at WWE rather than focusing on improving his own product. "Ironic coming from me — the guy who gave away [WWE] finishes [during the Monday Night Wars] ... I was doing all sorts of in-your-face s–t but I was actually going head-to-head. Tony has been on the sidelines taking cheap shots without having the guts to really go head-to-head, and now that they finally have, they got spanked."
"Eazy E" is also convinced that AEW's dwindling viewership is causing Khan to "do things out of desperation" and he is, thereby, "starting to look smaller and smaller" every week. "Somebody should take his phone away from him," Bischoff added. "Keep him away from the cameras for God's sake, somebody's gotta love that man enough to tell him he should not be in front of the camera because it doesn't do his brand any good."
Bischoff also reiterated some of his earlier comments criticizing Khan's management style, once again urging the AEW head to delegate his booking duties to a more qualified person. "I think Tony Khan is beyond help. I think he wants to be Paul Heyman or Vince McMahon ... this is a vanity project. He loves wrestling — I get it! It doesn't mean he's good at it. Unless Tony recognizes he's not good at it, you could bring in anybody and it won't work. Because he won't listen — not to the extent that he needs to." Bischoff wants Khan to take satisfaction in being the person who "put it all together" and hand over creative to others. "When it comes to managing talents, creating and producing the television show, he clearly doesn't have it."