Eric Bischoff Thinks We're 'Just Seeing The Surface' Of What AEW Star Can Be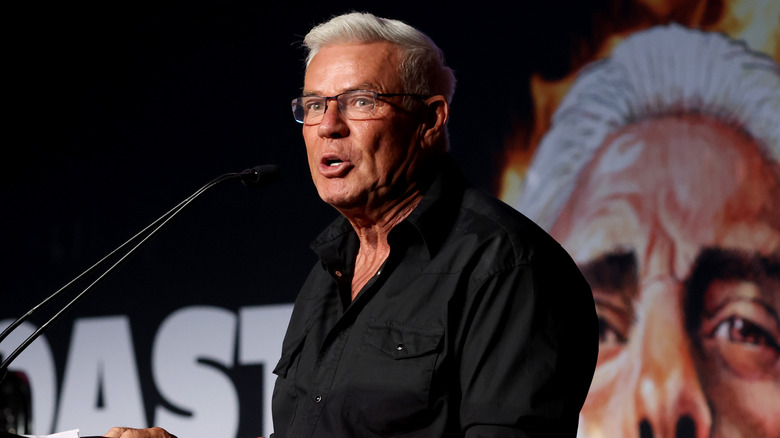 Jason Kempin/Getty Images
Eric Bischoff has earned the reputation of a notorious AEW detractor, routinely voicing his disapproval of the upstart promotion and its leader Tony Khan. However, to Bischoff's credit, he has consistently held one AEW talent in high regard — MJF. On "Strictly Business," Bischoff doubled down on his praise of the AEW World Champion.
"In the limited time that I've spent with MJF, and the interactions that I continue to have with him, I think very highly of him," Bischoff said. "I don't know him well enough as a person, but I think the world of him as a talent. I think we're just seeing the surface, the tip of the iceberg of what MJF can be as a talent. I love watching him, listening to his promos, and the fact that he embraces heat — there's so many things that I truly respect and admire about MJF."
The subject of MJF came up when Bischoff was asked his opinion of the controversial angle on "AEW Dynamite" that saw Juice Robinson threatening to assault MJF with a roll of quarters. The segment was widely perceived to be antisemitic, especially with the Israel-Palestine conflict continuing to intensify. MJF would respond to the backlash by clarifying that the angle was meant to touch upon an incident in his life and his desire to stand up to injustices against oppressed communities — as opposed to promoting hate towards any community. Reflecting on the segment, Bischoff conceded it was "ill-timed" and AEW made a mistake by going through with it. "The judgment to use antisemitism as the premise for a story, under these circumstances, reflects a lack of judgment both on MJF's part and more importantly, on Tony Khan's part," Bischoff said.