Well-Known CM Punk Associate Reportedly Trying Out At Impact Wrestling Bound For Glory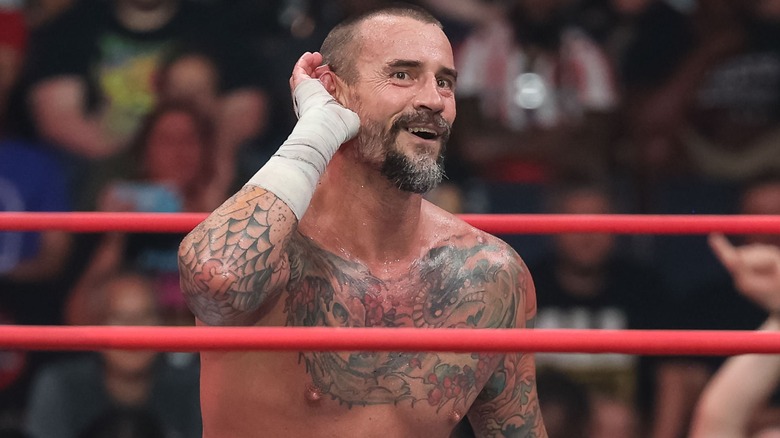 AEW
Ace Steel, who made the news cycle several times during CM Puk's tumultuous AEW stint, is reportedly trying out for a job at Impact Wrestling. According to PWInsider, the former "WWE NXT" and AEW coach is currently in Chicago for tonight's Bound for Glory pay-per-view to perform the role of a backstage producer.
The report quoted one source as saying that Impact wanted to bring Steel in last year after AEW fired him for his involvement in the infamous All Out skirmish. However, Steel was rehired by AEW to work from a remote location once Punk returned to Tony Khan's promotion earlier this year, only to be let go again after Punk's firing in September. Now that Steel is gone from AEW, Impact officials reportedly reached out to him and offered him a tryout. Steel previously worked for Impact in 2002, wrestling several matches for the promotion when it was called TNA. He even paired up with Punk, as part of the Hatebreed tag team, in a match that aired on "TNA Xplosion" in late 2002.
As expected, this report has led to speculation about Punk possibly following his longtime friend and associate to Impact once he's officially free of AEW legalities. With Survivor Series emanating from Chicago next month, there's also growing chatter about Punk potentially returning to his old stomping grounds of WWE. In recent weeks, there have been conflicting reports about a Punk-WWE reunion, with Dave Meltzer reporting that WWE recently turned down Punk's request to return to the company, all the while maintaining that WWE could change its stance in the future. The likes of Shawn Michaels and "Road Dogg" Brian James have openly campaigned for WWE to bring back Punk.