Backstage News On CM Punk's Reported Appearance At Impact Wrestling Event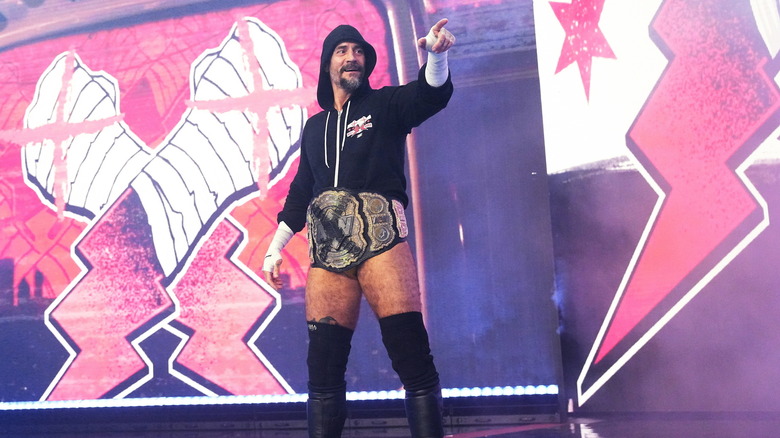 AEW
CM Punk is a free agent in professional wrestling following his abrupt AEW exit in September, and while questions remain over where he will go next, recent reports indicate that Impact Wrestling, soon to once again be known as TNA, may have his attention. Nick Hausman's "Haus of Wrestling" is reporting that Punk was backstage for the "IMPACT Wrestling on AXS TV" tapings in Chicago, though not for the Bound for Glory pay-per-view event. According to the report, Punk arrived just before the tapings began, around 6:30 pm CST, and was quickly taken to the locker room area. 
Punk reportedly spoke with anyone who wanted to get some time with him backstage, which was said to have included key talent within the promotion. His backstage presence follows a weekend of post-Bound For Glory buzz, which has only gotten stronger since Impact announced it was returning to its original TNA name. There were also reports that his Punk's friend, Ace Steel, had also been seen working backstage for Impact as a producer. Hausman claims Steel was even considered to wrestle in the "Gauntlet for the Gold" match on the PPV, but Impact didn't want its fans to assume Steel coming into the fold was a guarantee that Punk would follow, generating potentially unfounded excitement. 
CM Punk left AEW amidst controversy following an altercation backstage at All In, the massive event held at Wembley Stadium back in August. Recent reporting has indicated Punk wanted a return to WWE but his former promotion turned him down. If these reports prove accurate, the newly-rebranded TNA — a name that hasn't appeared on one of Punk's checks since 2003 — could end up being a bidder for his services.