Molly Holly Says Former WWE Star Doesn't Get Enough Credit For Helping Women's Division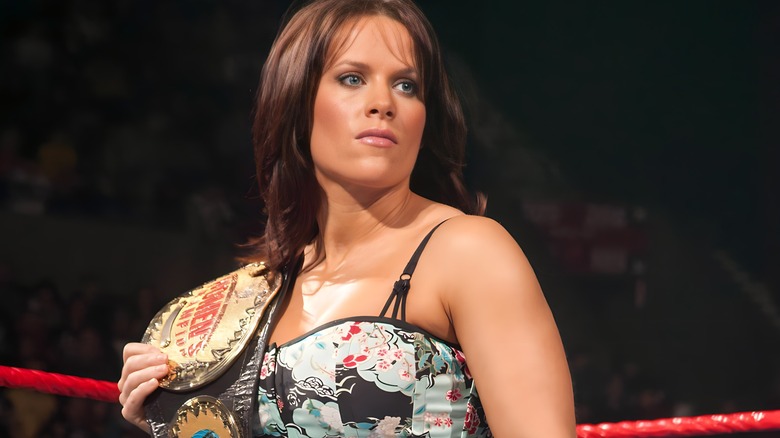 WWE
Fit Finlay has often been credited as a pillar in the advancement of WWE's women's division, but in today's landscape, WWE Hall of Famer Molly Holly believes another backstage figure has also played a crucial role in uplifting the women of WWE. During an exclusive interview with Wrestling Inc., Holly provided proverbial flowers for TJ Wilson, who acts as a producer for the company, as an acknowledgment of his continuous efforts in furthering the women's division.
"So TJ Wilson, or Tyson Kidd I guess is his wrestling name, he spends his off days at a pro wrestling ring helping any women that want to come work out with him and Nattie," Holly said. "And then backstage, I see all the women go to him for advice. He really has studied the women's wrestling so much. He can say, 'Oh, remember that match you had at 'NXT' three years ago where you did this and that? I think you could incorporate that today.' Just things where I'm like, 'How does he remember what somebody wrestled three years ago?' So I would say that Tyson Kidd is really dedicated, and he doesn't really get as much recognition as he should."
While Wilson hasn't been an active competitor since suffering a career-ending injury in 2015, he has fully embraced his backstage producing role, previously describing it as an "honor" to help the women move at an upward trajectory. Wilson's contributions have also been recognized by several current and former members of the WWE roster, including his wife Natalya, former "SmackDown" Women's Champion Carmella, and The IIconics (Billie Kay & Peyton Royce).
---
Molly Holly is running the 2023 TCS New York City Marathon on behalf of Connor's Cure. Fans wishing to support Molly Holly's efforts to raise money for Connor's Cure can do so at the following link: https://vfoundation.donordrive.com/index.cfm?fuseaction=donordrive.participant&participantid=11327