Why WWE's Big E Now Puts His 'Fan Hat' On To Watch Wrestling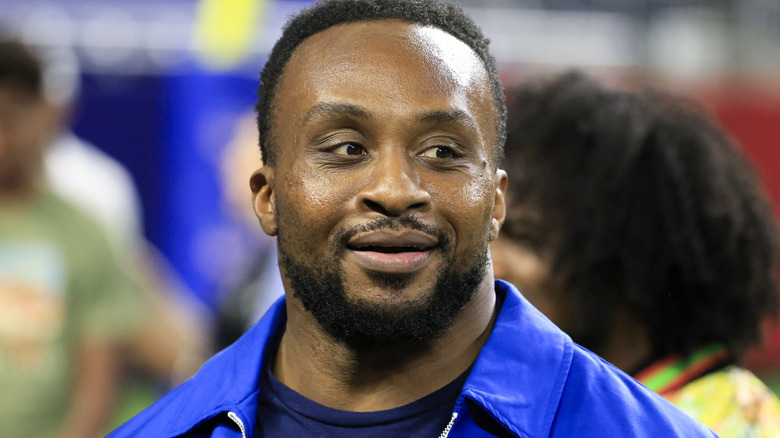 Justin Casterline/usfl/Getty Images
Despite the uncertainty surrounding his future in the wrestling ring, Big E continues to stay updated on the WWE product. During a recent appearance on "Busted Open Radio," the former WWE Champion opened up about his viewing experience, which has noticeably shifted perspectives since he was sidelined with a severe neck injury in March 2022.
"Honestly, I've been able to kind of just sit back and put on my fan hat. When you're on this hamster wheel, it's hard not to always think about your spot and how you fit in and how to get to that next level and think about yourself. But being on the shelf a bit has kind of allowed me to just sit back and watch the product as a fan," Big E said. 
The former WWE NXT Champion says that roster turnover happens quickly, but he's taken steps to make sure that he's still up-to-date on some of WWE's new recruits. 
"You feel like the old guy in the locker room, but it's been nice ... The cool thing too is while I was out with injury, I've been helping with some of the scouting stuff, with the NIL stuff, doing tryouts," Big E explained. "To me, if you really love the business, you want to make sure that it's in good hands 10 years from now, 20 years from now."
Big E believes that his New Day brethren share the same spirit, as Kofi Kingston and Xavier Woods recently appeared in "WWE NXT" last year to work a program with Pretty Deadly (Kit Wilson & Elton Prince) and various figures in the "NXT" tag team division. Beyond "NXT" though, Big E is thrilled to see the talent of "Raw" and "SmackDown" receiving their respective spotlights as well. 
"That's what I like now, is I can sit back and look at the amount of talent across the board," Big E said.
If you use quotes in this article, please credit "Busted Open Radio" and provide an h/t to Wrestling Inc. for the transcription.