Ric Flair On Why He Signed With AEW Now, If He Thinks WWE Is Upset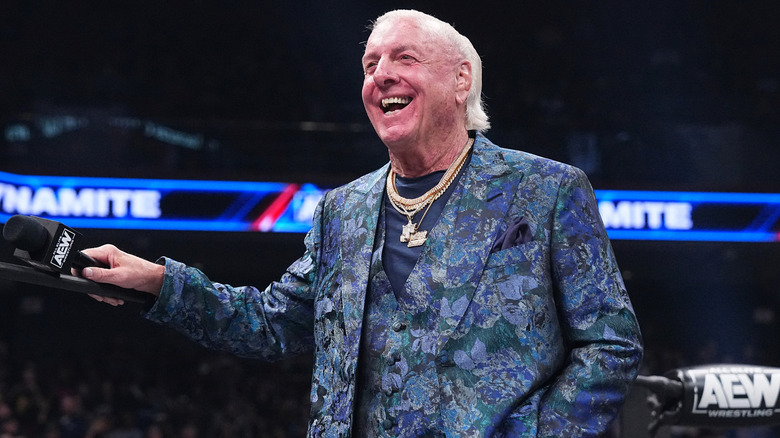 AEW
Ric Flair has opened up about his switch to AEW and how it came about, while also discussing if WWE is unhappy with him. 
"The Nature Boy" was a guest on the "Gabby AF" podcast where he revealed that he had talks with Tony Khan about joining AEW earlier as well, but couldn't join them as he was part of WWE.
"I've been friends with Tony [Khan] for a long time and I think we talked about me going to work there a couple times, but I was you know so involved with WWE," said the 74-year-old. "Obviously even more involved because my daughter is working there. But I don't work for them [WWE] anymore and [there] a number of reasons [but] none of them that are negative. I just wouldn't be able to do all my outside activities, their contracts are really confining. They pay everybody a lot of money so they pretty much can have the right to do what they want to do. I just didn't agree with the formula, the philosophy."
Flair debuted in AEW on the October 25 edition of "AEW Dynamite," featuring in a segment involving Sting and Tony Schiavone. He stated that he jumped at the opportunity of being a part of AEW after Khan informed him about Sting's retirement plans.
"When Tony called me and said, 'What do you think about coming because of Sting announcing his retirement, being part of all of it.' I said, 'God, I'd love to,'" said Flair.
Ric Flair on if WWE is unhappy with him joining AEW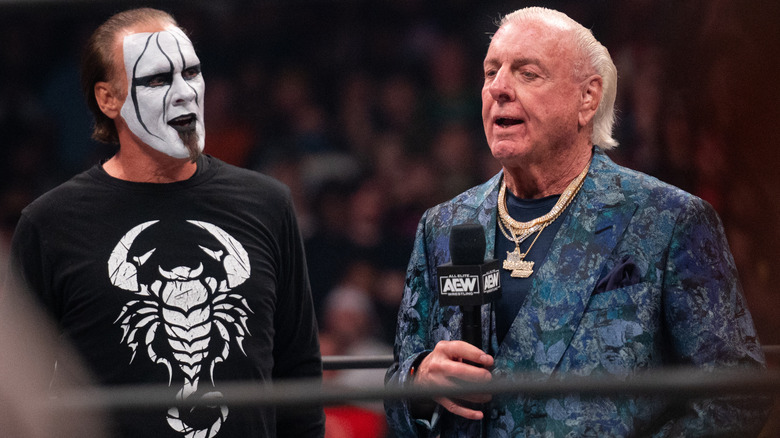 AEW
Ric Flair believes that his move to AEW, WWE's primary rival, hasn't led to any resentment from WWE. He explained that the professional wrestling industry, including WWE, wants to see him happy, and he expressed that he is content. He also pointed out WWE's continued use of his iconic "woo" in their signature intro as a sign that his former employer harbors no ill feelings towards him.
"I don't think, as a matter of fact, I don't think anybody's upset about it with WWE. I was hoping I wouldn't come off the opening [WWE signature intro] and I didn't, so I guess [WWE isn't upset]," said the two-time Hall of Famer. I think at this point in my career people just want, for the first time, just hope that I'm happy — and I am." 
The 16-time world champion then touched upon his AEW debut, highlighting why it was special to be not just alongside Sting, but also veteran commentator Tony Schiavone.
"I love Sting, one of my closest and best opponents forever. Just to be working with the guy, and you know, we started working together in 1987 or 88, first Clash of Champions, a lot of history. And there's Tony Schiavone, who I've known for 40 years ... I mean it was a pretty surrealistic moment for me, and TBS is where I made my name," Flair added.
He has signed a multi-year deal with AEW, and it's likely he will be involved in the Sting storyline until "Stinger's" retirement at AEW Revolution in 2024.