WWE Hall Of Famer Kurt Angle Says This Attitude Era Star Was 'Never Political' Backstage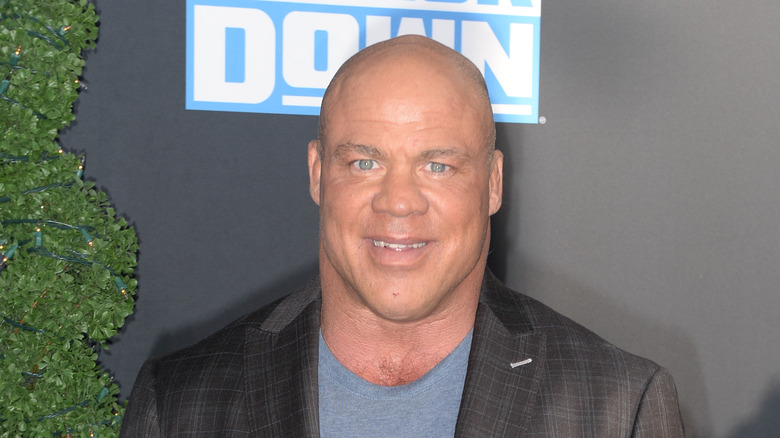 Jerod Harris/Getty Images
While he would go on to have bigger rivals during his Hall of Fame career, Kurt Angle's first two years in WWE found him often squaring off with The Rock. The two would consistently find themselves both vying for the WWE Championship in 2000 and 2001, and would headline three pay-per-views together, once with Triple H in a Triple Threat at SummerSlam 2000, and twice in singles competition at No Mercy 2000 and No Way Out 2001.
While discussing working with Rock on "The Kurt Angle Show," the Olympic Gold Medalist was downright enthusiastic about the times he got to grapple with the future Hollywood star. The reasons were because of how easy Rock was to work with, and, despite his later rumored real-life aspirations, Rock was never someone Angle needed to worry about getting into a political dispute with regarding their matches or storylines, even considering Rock's stature and Angle's relative inexperience at the time.
"Rock was never political," Angle said. "He never got involved with any of the finishes. He always did what he was told to do, and that's what I loved about Rock. He always took the high road, and never tried to go behind somebody's back and get a finish changed." Angle is likely grateful for Rock not pulling such acts due to No Mercy 2000, where Angle defeated Rock to win the WWE Championship for the first time, less than a year after he had debuted at Survivor Series 1999. Angle would then return the favor at No Way Out, dropping the title back to Rock and clearing the way for Rock vs. Steve Austin at WrestleMania 17 a month later.
If you use quotes in this article, please credit "The Kurt Angle Show" and provide an h/t to Wrestling Inc. for the transcription