Report: One Name Emerges As Frontrunner For Tony Khan's Surprise AEW Full Gear Signing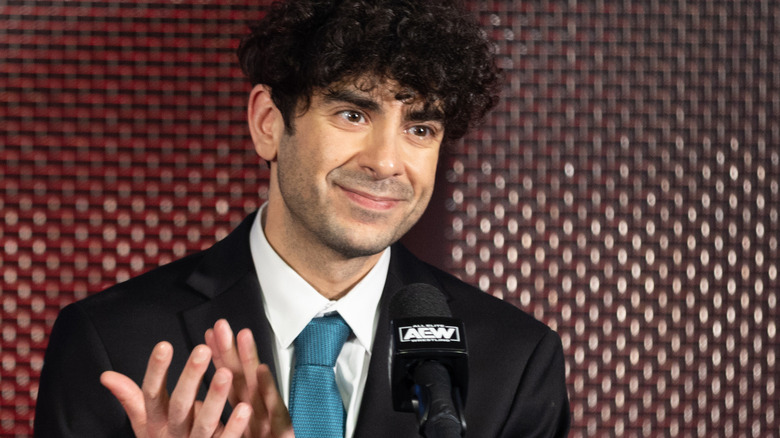 AEW
Speculation has been flying across the wrestling world since AEW CEO Tony Khan announced that "one of the world's best wrestlers" would be putting pen to paper on an AEW contract this Saturday at Full Gear. Many names have been thrown out, but speaking on his "Mat Men Podcast" Friday, the Wrestling Observer's Andrew Zarian indicated he had a pretty good idea of who it's going to be.
"I don't think it's Mercedes [Mone]," Zarian said, backing up a recent Fightful report which also suggested the former WWE and IWGP Women's Champion was not the signing. "I was told Will Ospreay. Now, that is a big deal, huge deal, because WWE was actively pursuing him."
Ospreay, who is currently signed to New Japan Pro-Wrestling, has already wrestled 11 AEW matches dating back to 2022, when the relationship between AEW and NJPW manifested the Forbidden Door crossover pay-per-view. He's not exactly an AEW newcomer, but that could be evidence in his favor — Khan specifically tweeted the wrestler in question is "known [and] respected by virtually every AEW fan," which some have taken as evidence that it's someone to whom the AEW audience has already been exposed. There have also been previous reports about WWE's interest in Ospreay, and he recently made waves by hiring high-powered wrestling agent Barry Bloom.
The one big obstacle
AEW
The fly in the Ospreay ointment, however, is that it's been reported on multiple occasions by multiple outlets that Ospreay's NJPW contract goes through February 2024. Following Zarian's podcast, Pro Wrestling Insider reiterated as much, while also saying Ospreay has received permission from NJPW to start discussion offers from other promotions, at least three of whom have reached out. Nonetheless, Khan's original tweet claimed specifically that the newcomer would be signing their AEW contract this Saturday, and it seems unlikely that NJPW would allow Ospreay to actively sign with another company, even one with whom they have a working relationship, prior to the expiration of his current deal.
If the signee isn't Ospreay and it isn't Mone, things suddenly become much more difficult to predict. Zarian himself admitted on "Mat Men" that AEW could be going in a different direction, but said Khan's surprise was unlikely to be any of the wrestlers WWE released in September, as a standard 90-day non-compete clause would have them under contract until next month.
"We know it's not them, unless somebody got a release," Zarian said.
Another subject of speculation has been Ronda Rousey, who recently teamed with her longtime friend, AEW's Marina Shafir, in her first two non-WWE matches and is known to be in Los Angeles, where Full Gear takes place. But Zarian, at least, has staked out his corner on the subject.
"I'm heavily leaning towards Ospreay," Zarian said. "Listen, I could be wrong, and I'm fine with that. I'm just relaying what was told to me."