Ric Flair Confirms He Suffered Medical Issue During Last Match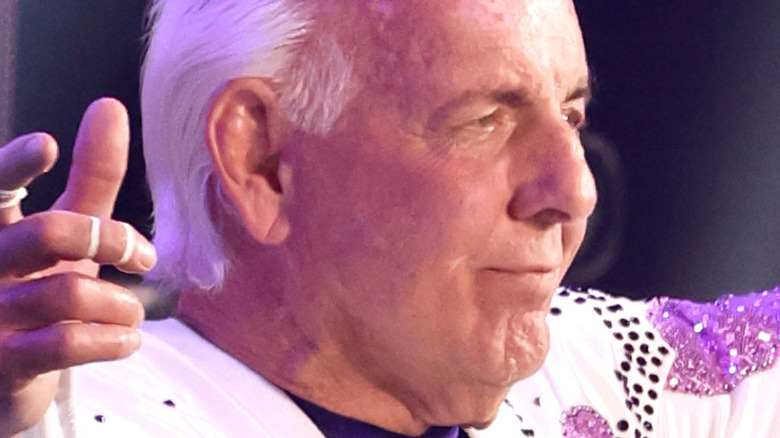 Jason Kempin/Getty Images
Ric Flair is famously a 16-time world champion in wrestling, which currently ties John Cena as the wrestler with the most world title wins in history. Flair has devoted his five-decade long career to being an over-the-top character and a wrestler who promoters could count on to wrestle 60-minute matches some nights, all while keeping the crowd entertained.
Flair competed in a retirement match more than 14 years ago at WrestleMania 24, losing to Shawn Michaels, meaning Flair's career was over. However, Flair would not stay retired. Following the match against Michaels, Flair competed in 16 more matches, with the majority of them taking place in TNA, now known as Impact Wrestling. Flair wrestled his last match prior to 2021 on a 2011 episode of "Impact," losing to Sting. This last match was not nearly as touted as his match against Michaels over three years prior.
"The Nature Boy" decided to come out of retirement one more time over a decade later at the age of 73, headlining the Ric Flair's Last Match event during Starrcast 5. Many considered this dangerous due to the health problems Flair had been facing on and off throughout the last few years, and the wrestling legend did indeed have issues during his return bout.
Flair suffered a health scare during his final match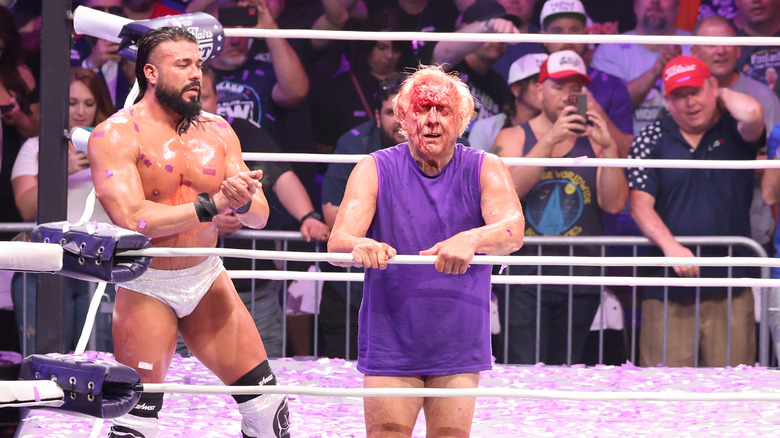 Jason Kempin/Getty Images
"I don't think people realized that I passed out twice," Ric Flair said on his "To Be The Man" podcast. "My regimentation for training was so strict that I kept my weight, I wanted my perfect weight to be like 220 going in ... I didn't hydrate because I had it in my mind that I had to weigh 219. Anyway, I went to the ring at 217 pounds and what happened during the body of the match, I just became dehydrated and when I was standing on the apron, I looked at Jay, which started the whole wheel of motion. I said, 'Man, I think I'm getting sick,' because I was getting light-headed."
Flair teamed with son-in-law Andrade El Idolo to take on, and defeat, the team of Jeff Jarrett and the man who had been helping Flair train before his last match, Jay Lethal. Flair looked to not be doing much in the tag match at times, however, "The Nature Boy" did partake in a few spots within the match, including one that Booker T was not fond of.
"I saw where Booker T, who is a really close friend of mine, thought it was in bad taste to do [the fake heart attack spot]," Flair said. "I apologize if I scared anybody, but I couldn't think of anyway to reorganize [the match]."
A planned spot during Flair's Last Match did not happen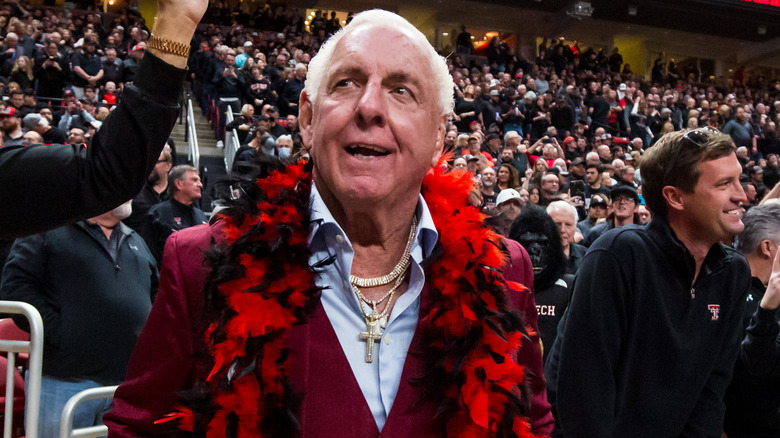 John E. Moore Iii/Getty Images
"Jeff, out of respect for me, he lifted the top turnbuckle and Jay was going to give me a superplex which would've blown the roof off the joint but he was worried about my health," Flair said. "Rather than look awkward, I came down with him. Then Jay came and he gave the suplex."
Flair wound up defeating Jarrett and Lethal after nailing Jarrett in the head with brass knuckles given to the Nature Boy by Andrade, and putting Jarrett in Flair's famous Figure Four Leg Lock. Jarrett would not tap out, as he was knocked out and had both shoulders on the mat for the three count. However, that finishing sequence almost didn't go as planned, as Flair had passed out again following an earlier guitar shot from Jarrett, only to be revived by Andrade. "Then I woke up," Flair said, "I knew where we were, and we're home. But I swear to god, twice during the match, I went completely black."
Not just fans were concerned about Flair following his almost 30 minute match, as The Undertaker came to Flair's aid after the encounter. "It was all dehydration ... Undertaker came running and I had like six beers there and he took them out of my hand and said, 'You're drinking two Gatorades.'"