Eric Bischoff Weighs In On Huge AEW Dynamite Match Next Week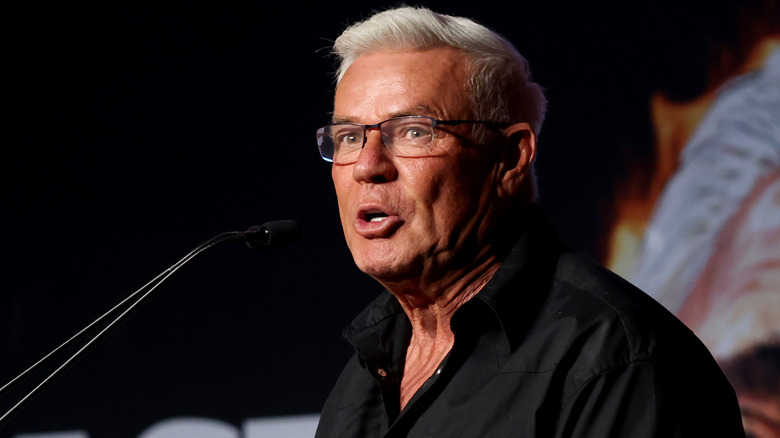 Jason Kempin/Getty Images
In 1998, on World Championship Wrestling's flagship show, "WCW Monday Nitro," "Hollywood" Hulk Hogan defended his WCW Championship against a white-hot, undefeated fan favorite, Goldberg. That night, the arena in Atlanta, GA, sold out for their hometown wrestler, with over 41,000 fans in attendance as Goldberg defeated Hogan and held the title high. The match also drew a 6.91 TV rating, one of the all-time highs for the Monday Night Wars of the late 1990s. However, the decision to run such a massive match on television rather than pay-per-view has been heavily criticized as one of the reasons WCW eventually went out of business in 2001.
Fast forward to 2022, and many people are comparing WCW's fateful Hogan/Goldberg decision to next week's AEW World Championship unification match between champion CM Punk and interim champion Jon Moxley, which was originally slated for the All Out PPV next month. Is it genius, or a huge mistake? And who better to answer that question than the man who made the fateful decision back in 2001, WCW President Eric Bischoff?
"I'm for it, for the same reason I was crucified when I made the decision to put Goldberg and Hogan on free TV," Bischoff said during the latest "After 83 Weeks" Q&A broadcast. "I think he should do it for the same reason that I did, which was I was a television company. Yes, PPV was an important part of the bottom line, but guess what was more important to Turner Broadcasting than my individual bottom line? Television ratings."
"Discovery is making decisions about where they are going in 2024," Bischoff continued. "You've got to serve your client. Discovery is Tony Khan's client and customer, keep them happy, first and foremost. I'm glad he made the decision to do it that way."
Does Moxley vs. Punk need more build-up?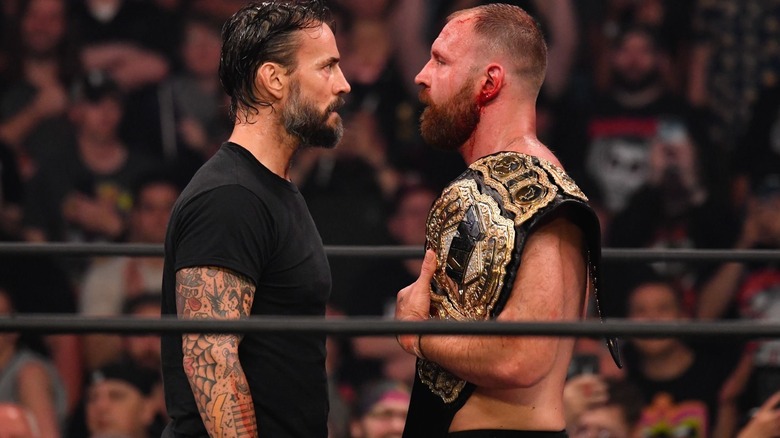 AEW/Twitter
Punk recently returned to the company to confront Moxley after suffering a foot injury that kept him out for several months. The two have had a built-in story since the moment Moxley was crowned AEW Interim World Champion at AEWxNJPW Forbidden Door after defeating Hiroshi Tanahashi, and this past week on "AEW Dynamite," Punk and Moxley couldn't contain themselves, attacking each other throughout two separate segments to set up next week's bout.
"It didn't need a lot of build-up," Bischoff said. "I think the spontaneity of it is cool. I think the fact that from a strategic perspective, it's the absolute right thing to do under the current circumstances, and I think creatively, there's a lot of room to play here ... That's assuming there's a plan. That's assuming there's a compelling story going forward, and taking advantage of this and building up to something even bigger next time around. There's a lot of potential on that table, now let's see what happens. I'm more optimistic than pessimistic."
While the huge main event match will likely garner a big rating for "Dynamite," All Out is taking place in Punk's hometown of Chicago on September 4, and it's already been reported that Punk vs. Moxley will is slated to headline the PPV, as well, meaning the "Dynamite" match could see an unclear or controversial finish.
"It depends how it's done," Bischoff said. "If it's done really, really well in a three-layered non-finish, that really interested me because it was something new and entertaining that I didn't see coming. So if there's some real depth to the finish or non-finish, it wouldn't bother me a bit."
'If this Punk acquisition was everything it was cracked up to be, we're going to find out next week'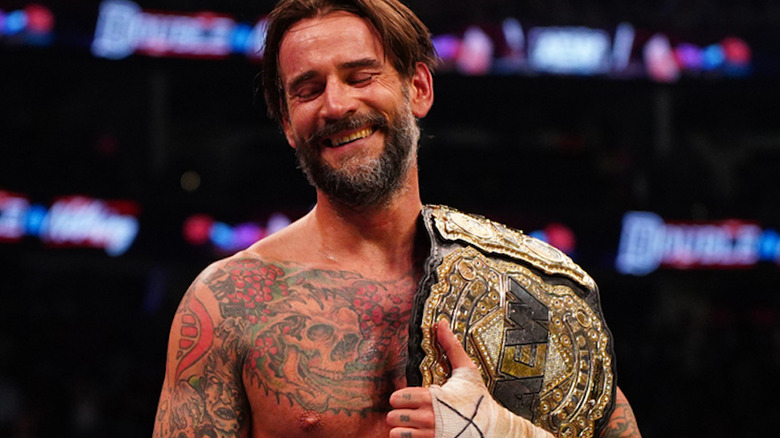 AEW
Bischoff has had a storied history with AEW, company CEO Tony Khan, and Punk, who Bischoff once called "the biggest financial flop" in the history of wrestling." Despite the ongoing feud between them, however, Bischoff believes this match with Moxley will test Punk's worth to the company.
"If this Punk acquisition was everything it was cracked up to be, we're going to find out next week," Bischoff said. "If you look at this week's rating, it was less than last year's rating year to date. Exactly a year ago, which was one week before Punk debuted. Punk and everybody that came with him, they've been there now for 300 and however many days, next week will be a full year, but last year at this time they did better ratings without Punk than they did with Punk's big return."
It's clear that Bischoff sees the upcoming championship unification match as both a savvy move by Khan and a massive opportunity for AEW as a whole. He speculated that the finish of the match might be disrupted by a returning MJF, who is reportedly on his way back to AEW and who was last seen being confronted by none other than Punk himself, making next week's "Dynamite" an opportunity to tie numerous story threads together. And while he's had harsh words for AEW in the past, and for Khan as a booker, Bischoff is rooting for their success.
"For the record, I hope [Punk vs. Moxley] does a 1.3 to 1.4 million [viewers]," he said.
If you use any of the quotes in this article, please credit After 83 Weeks with Christy Olson with a h/t to Wrestling Inc. for the transcription.