The 15 Spookiest Wrestlers In WWE History
WWE, whether you love them or hate them, have always excelled at the pageantry of the predetermined sport. From entrance music to fireworks to video packages, WWE definitely knows how to turn on the theatrics when needed. With this in mind, it's no shock that WWE have often experimented with carious horror tinted gimmicks on their weekly TV. From superpowered burn victims to evil clowns to cult leaders, WWE have certainly seen a diverse parade of freaks, monsters, and madmen.
That's not to say every creepy gimmick has been a winner with fans and critics, as some have received a healthy dose of mockery. However, even the cheesiest spooky gimmicks have an interesting backstory to them and can result in a wrestler developing a decent legacy. Whether they were a sinister slam dunk or dead on arrival, these are some spooky wrestlers that are still worth talking about.
Aleister Black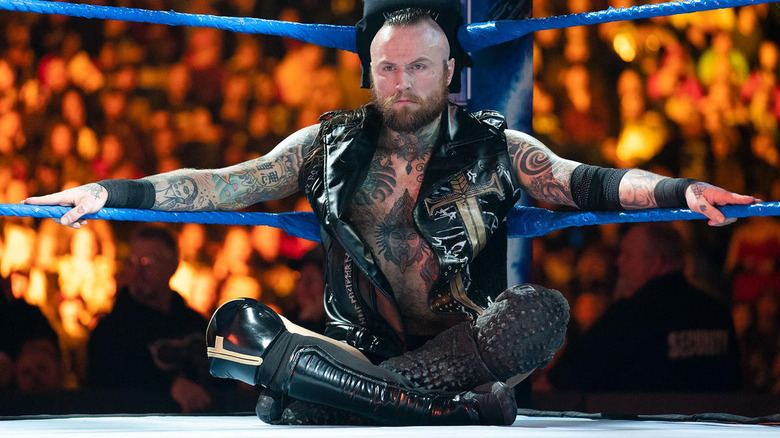 WWE
From the moment he emerged from the smoke ahead of his NXT debut, it was clear that Aleister Black was special. The man formerly known as Tommy End had already left behind an impressive indie resume with the likes of Pro Wrestling Guerilla and Progress Wrestling. So, when WWE came knocking in 2016, End brought his hybrid mix of occult imagery and strike based offense to the black and gold brand. Renamed Aleister Black, he quickly went on an absolute war path throughout NXT, knocking people's lights out with his devastating Black Mass. Unlike many horror tinted characters before him, there was definitely a lot going on under the hood of Aleister Black.
Black, drawing influence from his occult tinted childhood, spoke of sinister entities and devils on his back — many of which were represented by his various tattoos. Eventually, Black's momentum led to a victory over Andrade "Cien" Almas in 2018 to finally claim the NXT Championship. His reign was short lived, as Black soon found himself bumped up to the main roster following an impressive tag team run with Ricochet. While there were moments of brilliance here and there, Black's main roster tenure was far from what many fans hoped for. Black waiting in a dark room for someone to come and fight him was a rather tedious story device to say the least. Following his release in 2021, Black resurfaced in All Elite Wrestling — rechristened as Malakai Black.
Alexa Bliss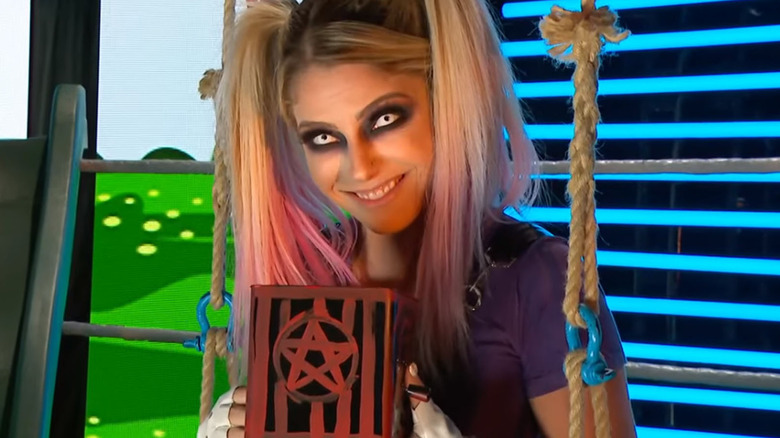 WWE
After a schism with her tag partner Nikki Cross, Bliss soon found herself at the mercy of Bray Wyatt AKA The Fiend. Following this attack, Little Miss Bliss began to show more signs of Harley Quinn style mental psychosis, even becoming more violent in her matches. Bliss officially aligned herself with The Fiend, even joining Bray and his puppets on weekly Firefly Fun House segments. What could've been an unnecessary addition quickly resulted in some of WWE's best weekly content, with Bliss and Wyatt sharing some delightfully depraved chemistry.
Things eventually went off the rails, in typical WWE fashion, when The Fiend reignited his feud with Randy Orton. With Orton having set The Fiend ablaze, Bliss was left to keep the storyline going without him which resulted in some rather oddball developments. Even fans who dug The Fiend's supernatural shenanigans were growing increasingly tired of Orton being punked out by a grown woman in pigtails.
Things got no better when, during Fiend and Orton's WrestleMania blow off, Bliss opted to betray The Fiend — costing him the match. The reasons for this turn were only barely explained and with barely any regard for the storyline that preceded it. It's no wonder the whole debacle was selected as the worst feud of 2021 by Wrestling Observer Newsletter. 
Despite these issues, it cannot be denied that Bliss threw herself into the repacking with ample gusto — easily matching Bray Wyatt's manic energy tit for tat.
Bray Wyatt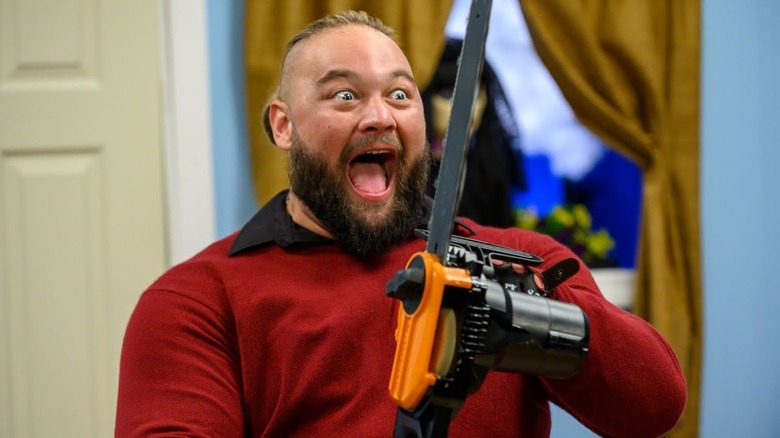 WWE
"I was the color red in a world filled with black and white," said Bray Wyatt, amidst the madness of the Firefly Fun House match. This quote, more than any other, truly encapsulates what makes Bray so special — his persistent ability to stand out among the crowd. Following a vigorous retooling after his so-so run as Husky Harris, Windham Rotunda was slowly revamped as Bray Wyatt, a Bayou cult leader. Wyatt could talk for eons, never once losing the audience, enrapturing them with a melee of cryptic words delivered with a haunting cadence. After an inconsistent but entertaining run as the Eater of Worlds, Wyatt took an extended break from television to retool himself. 
He'd emerge from this sabbatical with a gimmick that no one saw coming, a demented Mr. Rogers-style children's show host, complete with accompanying puppet pals. This saccharin façade was only a smokescreen however, a mask hiding Wyatt's true evil, an entity known as The Fiend. Complete with white skin, sharp teeth and unflinching eyes, The Fiend was a creature that'd be right at home in "Hellraiser." Despite being frequently plagued by subpar creative, Bray Wyatt has never failed to maintain a unique, albeit sinister connection with WWE fans, as evidenced by the rapturous response to his return at Extreme Rules 2022.
Bull Nakano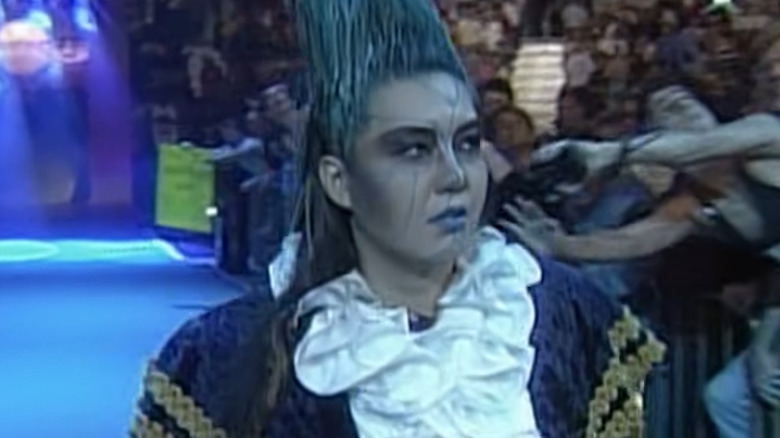 WWE
Very few female pro wrestling talents, or even pro wrestling talents in general, are able to instill the same level of fear that Bull Nakano could. Nakano got her start early in wrestling in All Japan Women's Pro-Wrestling in 1983. During this time as a developing heel, Nakano began to add visual flair to her ensemble — including leather jacket, intimidating face paint and torn leggings. Add to that a haircut that'd make the characters from "Yu-Gi-Oh" blush and you have the makings of an intimidating figure.
Nakano is often remembered for her rivalries with Alundra Blayze and with both fellow Japanese star Aja Kong. It'd be from the latter from whom Nakano won the WWE Women's Championship from — holding it for five months in the 1990s. With her combination of impactful in-ring offense and her eclectic appearance, when Bull Nakano approached the ring, you knew danger was en route.
Doink the Clown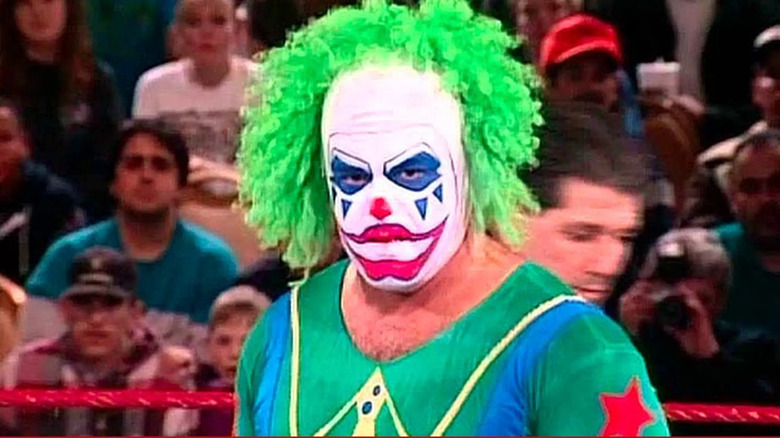 WWE
Just about everyone finds clowns creepy and off putting. Whether they be on the silver screen, lurking in the woods or, in this instance, inside the squared circle. The original incarnation of Doink the Clown, though largely remembered as one of the WWF's most outlandish babyface characters, was first presented as a heel. Throughout his first string of appearances, Doink caused mischief at ringside by pranking various fans and eventually wrestlers as well. This more malicious presentation was only heightened by his theme music, a loop of extremely disturbing circus music. 
From battering Crush with a prosthetic arm to tripping Big Boss Man with a tripwire, Doink was quite the menace. Sadly, this more threatening presentation wasn't long for prime time, as Doink was soon turned babyface during a feud with Jerry Lawler. Around this time in the character's run, the man behind the grease paint and wig was professional wrestler Matt Osborne. Due to Osborne's substance related issues, he was fired from the WWF and the gimmick was given to Ray Apollo. While the act likely wasn't going to garner any championships, it was a definitely intriguing character and one that could've been taken much further.
Erick Rowan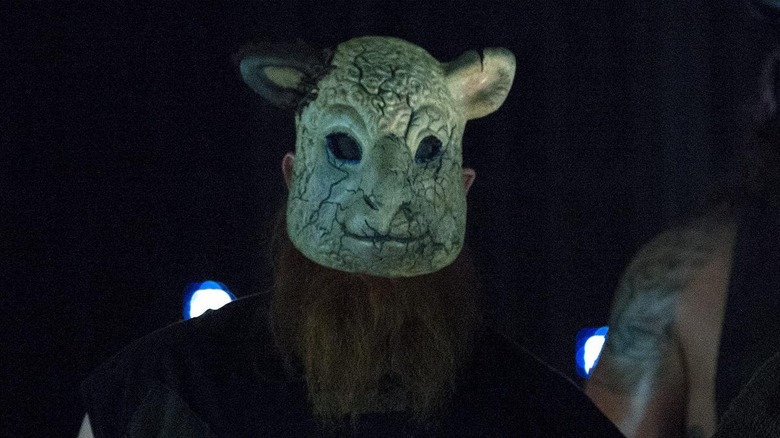 WWE
After many years working on the independent scene, Joseph Rudd was signed by the WWE and placed into their developmental system. Rudd, rebranded as Erick Rowan, was present during the transition from FCW to NXT. Rowan was slotted to be the first follower of a unique new character known only as Bray Wyatt. Add Brodie Lee AKA Luke Harper into the fray and the original version of The Wyatt Family was born. Much like Harper, Rowan's size and unorthodox appearance lent itself well to the creepy backwoods presentation of the Wyatt Family. 
The trio soon found themselves on the main roster and were brought in with a fair amount of showmanship as well. Following a series of "Blair Witch Project"-tinged vignettes, The Wyatt Family made their debut, destroying Kane in the process. After the confusingly timed dismantling of the Wyatt Family, Rowan was repackaged as a monster babyface and even aided John Cena at Survivor Series 2014. This babyface run wasn't exactly moving the needle, and eventually Rowan found himself as a heel once again, even rejoining his Wyatt brethren at one point. Sadly, Rowan's final noteworthy storyline prior to his release was a cornball bit of booking revolving around a comically awful mechanical spider in a cage.
Gangrel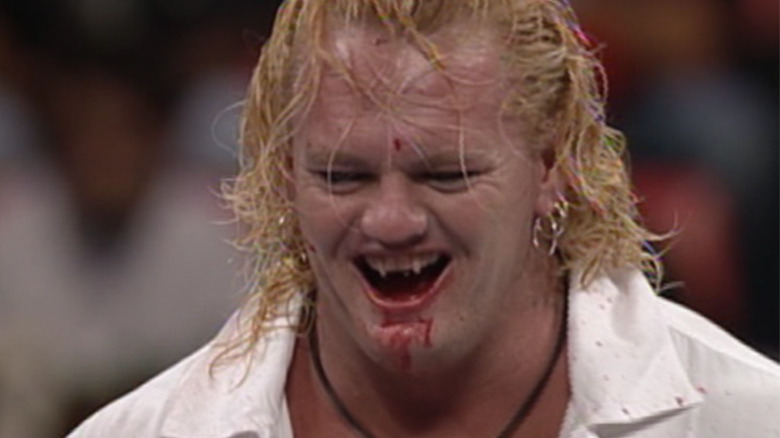 WWE
Vampires have always been an inescapable pop cultural fixture and the 1990s saw a huge uptick in media featuring the living dead. From "Interview with a Vampire" to "Buffy the Vampire Slayer," bloodsucking vampires were everywhere, and the WWF definitely took notice. During an episode of his podcast, Bruce Prichard noted how it was he and former head writer Vince Russo who pushed for a vampire gimmick. This resulted in the subsequent hiring of David Heath AKA Gangrel, who soon debuted on television bathed in red light and holding a goblet of blood. Fittingly, the name Gangrel was taken directly from a vampire clan introduced in the tabletop role-playing game "Vampire: The Masquerade."
Soon enough, Gangrel was teamed up with two young upstarts by the names of Edge and Christian to form The Brood. The trio quickly became known for their gothic entrance and their recurring bloodbaths, wherein they'd soak various wrestlers with blood while the arena lights were off. The trio even temporarily aligned themselves with The Undertaker, who was leading his diabolical Ministry faction at the time. The trio didn't last much longer beyond that sadly, with Edge and Christian breaking off from Gangrel in the summer of 1999. However, the legacy of Gangrel and The Brood has never quite been forgotten, with Edge paying tribute to it in recent years.
Jake 'The Snake' Roberts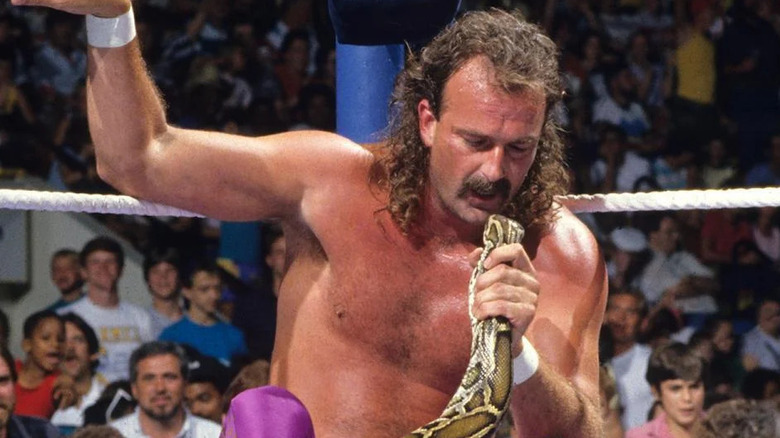 WWE
Jake Roberts was an outlier amongst the other performers in the WWF during the late '80s and early' 90s. Whereas most other performers cut loud and boisterous promos, Jake did the opposite by talking softly and precisely. Whenever Jake got on the microphone, it was nearly impossible for fans to not hang off of every single word. His slow, almost methodical, manner of speech mixed with a cold unflinching stare just oozed a sense of pure evil. This, mixed with Jake's mastery of the devastating DDT, made him one of the company's finest heels — easily able to go toe to toe with many of WWF's top babyfaces. One of his moment noteworthy acts as a heel featured Jake unleashing his pet snake Damien on Randy Savage, much to the horror of those in attendance. 
Jake's popularity with the fans soared, but this might've been to his detriment as the crowd began actively cheering him. During an interview with the "Two Man Power Trip of Wrestling" podcast, Jake recounted how he was originally penciled in for a feud with top star Hulk Hogan. However, once he began receiving more positive fanfare than Hogan, WWF's then-top draw, the feud was scrapped much to Jake's chagrin. Theodore Roosevelt often said to "speak softly and carry a big stick ... you'll go far," and Jake "The Snake" Roberts is living proof of that.
Kane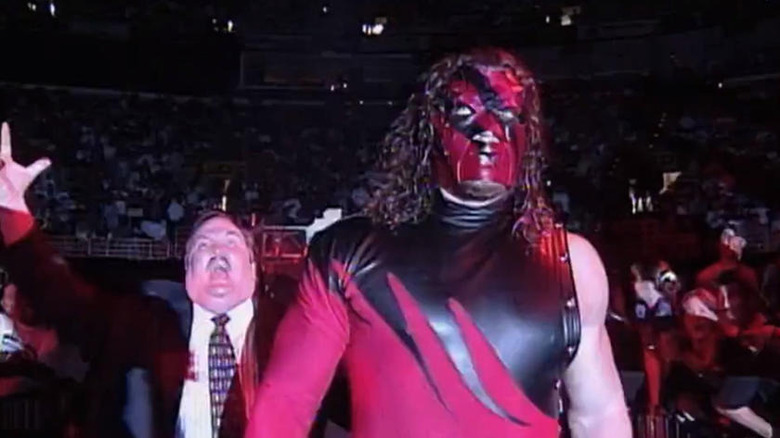 WWE
In terms of episodic television, WWE has often excelled at soap opera style and/or comic book influenced storylines. Nowhere was this elevated storytelling more prominent than in Undertaker's original feud with his kayfabe brother Kane. Following a bizarre incident at In Your House: Revenge of the 'Taker, the Prince of Darkness had a sizable truth bomb dropped on him: Paul Bearer, his former manager, revealed to 'Taker that his brother Kane, long presumed dead, was actually alive. Kane's status was confirmed when, at Badd Blood: In Your House, he made his debut during his brother's main event Hell in a Cell match with Shawn Michaels. Not only did he rip the cell's door off, but he made fire shoot from the corners of the ring as well. He demolished 'Taker with a variety of the Tombstone Piledriver, leaving the Heartbreak Kid to score the one-two-three and claim the number one contender's spot.
Over the course of his decades long career, Kane saw many different phases and looks, switching between masked and unmasked quite frequently. However, whether his face was covered up or not, Glenn Jacobs always knew how to turn on the intimidation factor. Whether it was as a silent force of nature or as a cackling maniac, if you're looking for an effectively spooky wrestler, it's gotta be Kane!
Kevin Thorn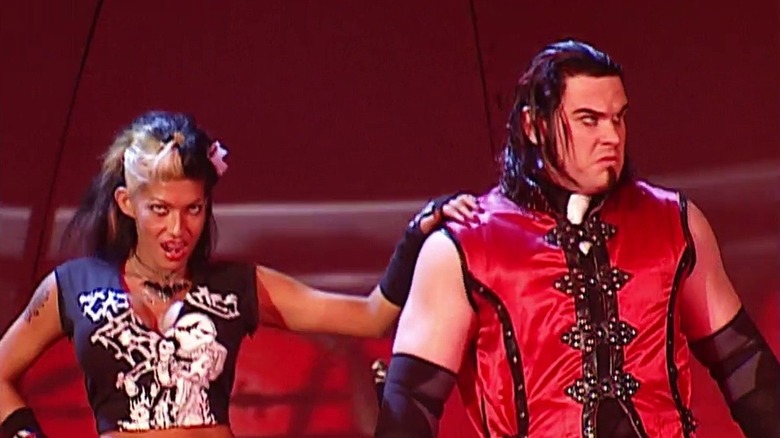 WWE
WWE's attempt to rejuvenate Extreme Championship Wrestling on the Sci-Fi Channel was at least moderately misguided. However, one minor bright spot that came out of this revamped ECW was an influx of fresh new talent. ECW slowly became a prototype NXT, wherein new stars could get some television time en route to bigger opportunities. One such talent who called the land of the extreme home for a time was Kevin Fertig AKA Kevin Thorn — WWE's second attempt at a vampire persona. Accompanied by the lovely yet disturbing Ariel, Thorn's entrance saw him arrive clouded in a haze of red smoke.
His music, an honestly underrated WWE track, was a catchy blend of "Blade" style techno and occult chanting. The character was utterly 2000s and was definitely right at home amongst the plethora of B-movies the Sci-Fi channel played. This was actually Fertig's second stint with a supernatural gimmick, having been the disastrously cornball Mordecai over on "SmackDown." Thorn was definitely another example of the WWE's growing pains during the 2000s, but still remains a charming oddity from that time.
Mankind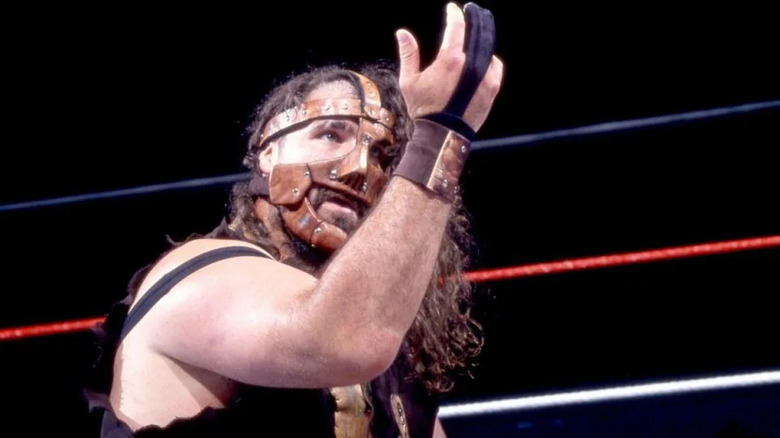 WWE
Mick Foley was truly one of the WWE's craziest investments back in the '90s and a far cry from many of his peers. Foley, better known from his time in ECW and WCW as Cactus Jack, was a husky bearded man with a damaged ear. This was definitely a far cry from the likes of Stone Cold, The Rock, or Shawn Michaels, all wrestlers with impressive physiques and good looks. However, while Foley lacked movie star good looks, he more than made up for it with impressive endurance and a dedication to his various gimmicks. This was made clear when the WWE repackaged him as Mankind following his signing in 1996, something that Vince McMahon was against. During an interview with "Inside the Ropes," Foley revealed that Mankind — originally named Mason the Mutilator — was created as an excuse to cover his face with a mask.
However, through sheer force of will, Foley took this potentially cheeseball character and made it work, imbuing it with legitimate disturbing cadences and unnerving ticks. His promos almost always emanate from the boiler rooms and basements of wherever WWE was running, which only enhanced his disturbing presence. Following his now-legendary feud with the Undertaker, including their Hell in a Cell match, Mankind quickly became one of the Attitude Era's most prominent figures. Today, Foley and his various personas — Mankind, Dude Love and Cactus Jack — are fondly remembered by legions of wrestling fans.
Papa Shango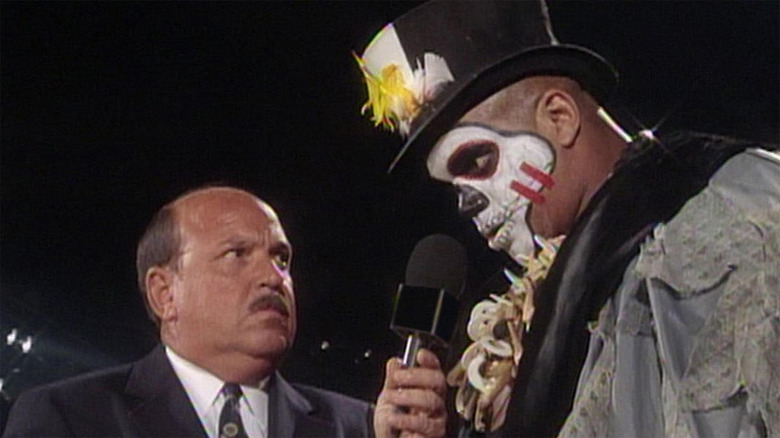 WWE
As far as over the top gimmicks wrestling go, no decade saw more ridiculous personas grace prime time television more than the '90s. Amongst this crop of often-ludicrous gimmicks was the creepy and over the top Papa Shango, portrayed by Charles Wright. Wright portrayed a few different characters during his multiple year tenure with the WWE — including Papa Shango, Kama and The Godfather. Shango is often remembered for his creepy and flamboyant ensemble which consisted of skull make up and a voodoo staff.
Among his various antics included a stint of supernatural tactics used against the Ultimate Warrior following Shango's now-infamous debut at WrestleMania VIII. These tactics included making the Warrior vomit and even leaking a black, supposedly blood-like fluid years before Alexa Bliss was doing the same to Randy Orton. Despite some intriguing visual appeal, the gimmick was dead on arrival and yet another example of WWE's often regressive booking enduring despite a changing industry. It's no wonder why fans and analysts at the time turned on the gimmick in droves, even awarding Shango the worst gimmick award for PWI's 1992 rankings. Despite this, the gimmick is still referenced quite fondly by fans and even on WWE programming with the New Day referencing it in 2016.
The Boogeyman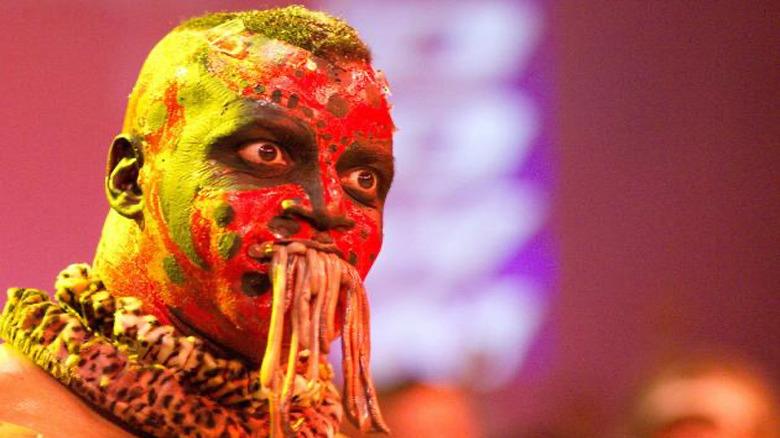 WWE
The world of professional wrestling was first introduced to Marty Wright through the early days of WWE's reality series "Tough Enough." Wright entered the reality competition, but was disqualified for claiming to be 30 years old when he was actually 40. However, WWE still saw some value in Wright and gave him a chance to train in their developmental system, Ohio Valley Wrestling. It was during this time that Wright was given the Boogeyman gimmick, presented more as a deranged man using the moniker of the classic monster. In 2005, The Boogeyman was promoted to the main roster as a part of "SmackDown," even receiving a series of horror movie themed vignettes.
Eventually, The Boogeyman made his arrival on the blue brand following an appearance at Survivor Series 2005. Caked in sinister red makeup and holding a Papa Shango-style staff, The Boogeyman's presentation was freaky to say the least. Billed from the Bottomless Pit, Boogeyman one-upped his own weirdness by devouring live worms — sometimes even using them against his opponents. The character was cornball to be sure, much like many Ruthless Aggression era gimmicks, but Wright's commitment to the character was undeniable. Wright still occasionally pops in for a few scant appearances, usually around Halloween, for a welcome nostalgia pop.
The Undertaker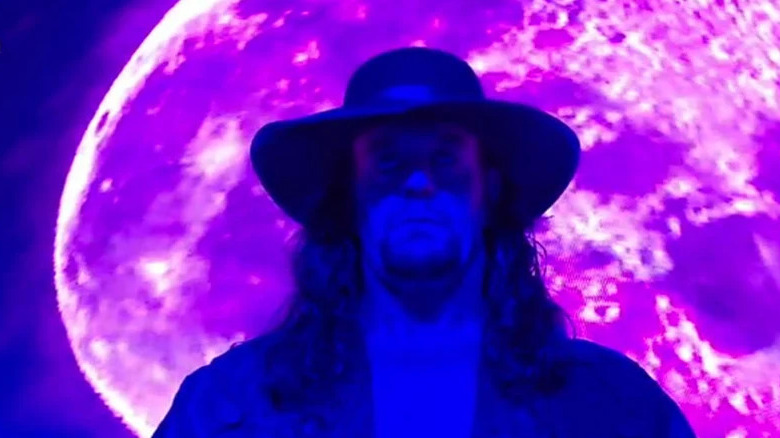 WWE
He's the measuring stick to which all other supernatural or horror tinted gimmicks are compared. He's usually one of the first professional wrestlers you think of when you think of pure character and spectacle. From his entrances to his promos to his undeniable stage presence, there are few wrestlers who can match The Undertaker's legendary status. Though originally written off by Vince McMahon as nothing special, Mark Calaway soon found him holding a veritable golden ticket. Speaking with Joe Rogan with Joe Rogan, Calaway revealed that McMahon already had the Undertaker character in mind and, after some thought, realized he was the man for the job.
Soon enough, 'Taker made his debut in front of a capacity crowd at the 1990 edition of Survivor Series, making a sizable impact in the process. After a year of dominance, 'Taker found himself in the Survivor Series '91 main event, where he'd defeat top babyface Hulk Hogan for the WWF Title. Though his first reign was brief, it proved that 'Taker was more than capable of handling the bright lights of the main event. In the following years, the Deadman adopted a plethora of different gimmicks — including the Lord of Darkness and the American Badass. Today, 'Taker is widely regarded as an industry legend and a perfect example of the right guy being given the right gimmick.
Waylon Mercy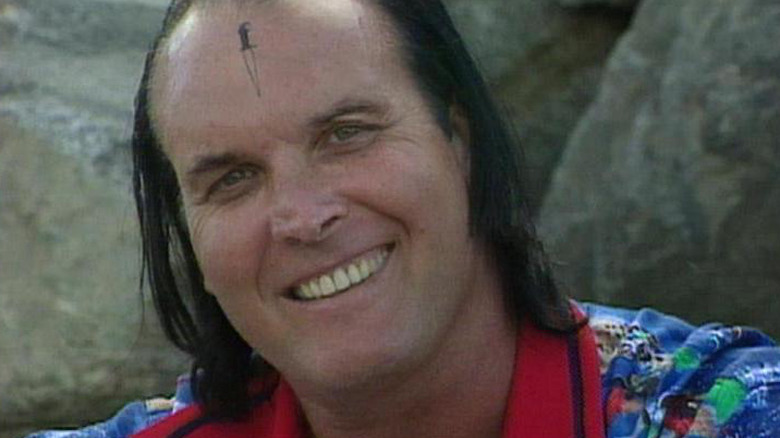 WWE
In a perfect example of something that could've been taken much further than it was, we have Waylon Mercy. Professional wrestler Dan Spivey lent his talents to various wrestling companies during his career, such as WWE, WCW and AJW. He'd wrestle under many different names and aliases but his most noteworthy gimmick was the disturbing Waylon Mercy. In the mid-'90s, Spivey tweaked his persona to resemble Max Cady from "Cape Fear," lifting traits from the 1991 version of the film. Spivey's greased back hair, white t-shirt combined with a Hawaiian shirt and bizarre tattoos definitely added to his offputting presence. Additionally, he'd maintain a very subdued delivery mixed with a gentlemanly southern drawl during his promos, in which he'd state that "Lives are gonna be in Waylon Mercy's hands." The character showed definite promise, but sadly Spivey's real life injuries caught up with him, cutting his career short in 1995.
In recent years, it's been revealed that Mercy served as a direct inspiration for Bray Wyatt's original cult leader gimmick. During an interview on "The Steve Austin Show," Wyatt revealed that Spivey basically gave him the character during a Performance Center visit. Despite his in-ring career being unfortunately cut short, Spivey's time in wrestling left a definite legacy.