The Latest On Whether Cody Rhodes Is Cleared To Wrestle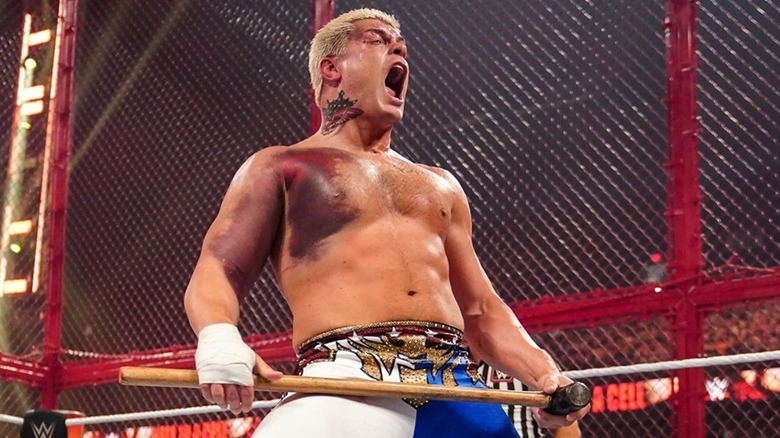 WWE
Cody Rhodes' long-awaited return to WWE was confirmed on Monday, but even with that piece of news, "The American Nightmare" may not have been given the green light to wrestle — at least not yet. 
The latest edition of the Wrestling Observer Newsletter reported that, while Rhodes has been training in Orlando to step back into the ring, he was not yet cleared to wrestle when WWE officially announced on "WWE Raw" this week that he would be entering this year's Royal Rumble. However, the fact Rhodes isn't medically cleared at the moment is seen as just a formality, and Rhodes appears on track to show up in a little over a week as expected.
Rhodes has been sidelined with a torn pectoral tendon since last summer, going under the knife to repair the injury after his match at Hell In A Cell. The initial timetable for his recovery was around nine months, which might have had him missing the Rumble. However, his rehab was progressing "ahead of schedule" in recent months, putting an entry into the Rumble on the table as a realistic possibility.
Since Rhodes returned to WWE last year, he's clearly stated that he came back to win the WWE Championship. Winning the Royal Rumble match, of course, would give Rhodes the opportunity to challenge current title holder Roman Reigns to a match for said title at WrestleMania in April.
"Anyone who's of this business can read between the lines," Rhodes said last month, in one of several teasers for his return. "There's one thing [WWE Championship] I came back for specifically. A torn pec couldn't stop me, and I can't name one thing that can stop me. It has to be done, it needs to be done, and I want to be the one to get it done."