Jey Uso Turning On Sami Zayn Was Inevitable, But Risks Derailing WWE's Bloodline Story
WWE/YouTube
There is no Bloodline storyline without Jey Uso, whose 2020 dissension from his cousin's championship rule was the inciting incident for Roman Reigns to declare himself "The Head of The Table." At the Trial of Sami Zayn, only Jey stood in defense of the popular French Canadian, once again in defiance of Reigns. At the 2023 Royal Rumble, the rebellious Uso brother refused to take part in Roman's post-match quartering of Zayn, and at Elimination Chamber, Jey was once again reluctant to help the Bloodline punish Sami. Even when he's a supporting character in this long-running storyline, Jey Uso's loyalty to Roman Reigns and the Bloodline has been a central question on WWE programming.
This makes it all the more troubling that the most recent edition of "WWE Raw" saw Jey Uso suddenly betray Zayn and help his brother and Solo Sikoa lay waste to him. In the rush to have a united Usos ahead of the likely WWE Undisputed Tag Team Championship match with Sami Zayn and Kevin Owens, WWE seems to be hurriedly wrapping up the longest-running thread in what has been hailed as one of their best storylines.
In a vacuum, the hasty answer to Uso's loyalty could be a surmountable narrative hurdle, but when coupled with their likely match existing as a consolation prize for the white-hot Sami Zayn's absence from the WrestleMania 39 main event, the development risks derailing the Bloodline storyline just as it's nearing its final destination.
The Prodigal Uso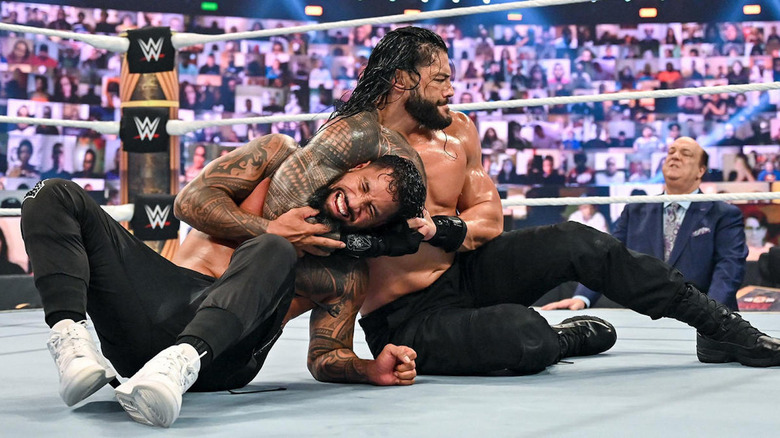 WWE.com
In 2020, when Jey Uso won a four-way match to earn a WWE Universal Title match against his cousin Romain Reigns. Jey's refusal to "acknowledge" Reigns made him an instant star of WWE's ThunderDome era. Uso faced Reigns in two main event matches, falling to the champion both times. Though Jey eventually acknowledged Reigns, he and his brother Jimmy began to have very different attitudes, but they were eventually united again — until Zayn entered the picture in 2022.
Riding a wave of popularity following his acclaimed WrestleMania match against "Jackass" star Johnny Knoxville, Zayn's attempts to join the Bloodline opened a rift between the Uso twins. While Reigns, Jimmy, and even Paul Heyman eventually warmed to Sami, Jey remained skeptical until Survivor Series, when Zayn seemingly proved himself by attacking his longtime friend, Kevin Owens, and allowing Jey to score the victory in WarGames. From that point on, Jey was Sami's biggest supporter, standing up for the "Honorary Uce" at his trial and refusing to attack him at Royal Rumble, when Zayn's patience for Reigns' endless loyalty tests ran out.
Less than a month ago, this was not a man on the same page as his family, but that has all suddenly changed. Zayn's defeat at Elimination Chamber left Jey's loyalty as the most prominent loose thread of the Bloodline, but while Sami's closure came in a main event match in front of his hometown, the climax of Jey Uso's emotional journey seemed to be relegated to random Monday in March.
A Sheep In Wolf's Clothing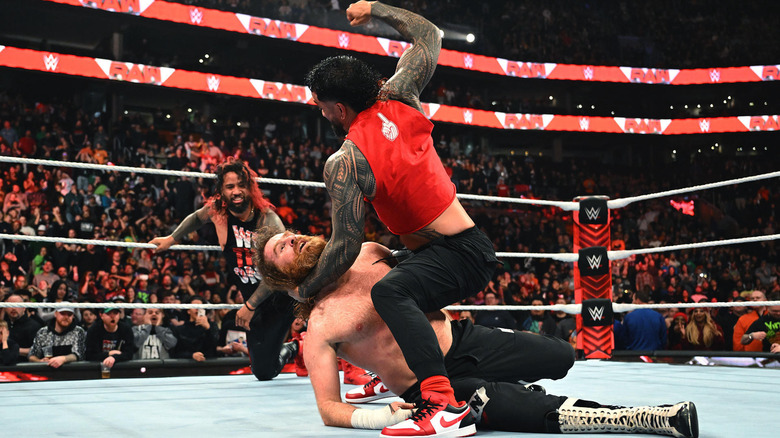 WWE.com
On Friday's "WWE SmackDown," after weeks of waiting for Jey's return, Reigns told Jimmy that if Jey wasn't in line with the rest of the group, he'd blame Jimmy for Jey's transgressions. This offhand threat seemed to be all it took to bring the oft-rebellious Uso back in line. Jey, seemingly to protect his brother more than anything else, helped Jimmy and Solo Sikoa dismantle Zayn on Monday's edition of "Raw," only to be run off by Cody Rhodes. Like Zayn at Elimination Chamber, Jey's long-running storyline has been sacrificed on the altar of the pseudo-WWE-vs-AEW WrestleMania main event of Reigns vs. Rhodes. Should the Bloodline get too involved in the Cody/Roman storyline, they run the risk of making Rhodes stick out like a carpetbagging outsider that's come to profit off a family dispute. 
And thus, Jey Uso is once again alongside his brother, hastily threatened and herded back into line like a sheep, so that the two of them can be a united front against Zayn and Owens, safely away from the world title situation. It was a necessary turn in the long-running storyline if the tag match at Mania was the goal, but it's possible that by neutering Jey's indecisiveness, WWE has taken a major narrative tool off the table, and risks making any further turns by Jey feel too convoluted or contrived, making it easier for the storyline to trip and fall just as it nears the finish line.