AEW Needs To Think Twice If Jon Moxley Is Actually Turning Heel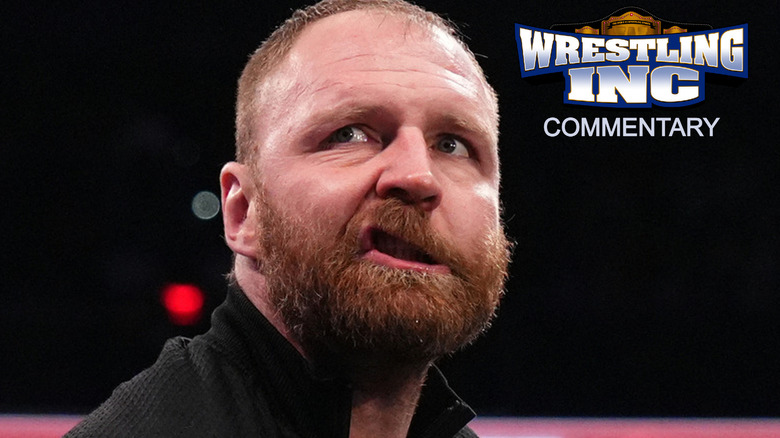 AEW
Jon Moxley and the Blackpool Combat Club have been hinting at a darker side to their characters for weeks now, but on last night's "AEW Dynamite," they seemed to enter official heel territory for the first time. After winning a match against Dark Order by tapping out Alex Reynolds, Moxley not only refusing to let go of the hold, but transitioned into his Bulldog Choke despite the urging of the referee. Afterward, the BCC attacked Dark Order, and when "Hangman" Adam Page came out to help, they attacked him as well, seemingly continuing the feud between Moxley and Page that began in October and has been going in earnest since January.
Leaving aside the logic (or lack thereof) behind not moving on from this story following Moxley's defeat in a Texas Death Match at AEW Revolution, there's a larger question to be asked here: Is AEW turning Jon Moxley heel? While the former three-time AEW World Champion has never been what you'd call a traditional babyface, he's always been, at worst, an antihero, someone beloved by AEW fans for his toughness, coolness, and love of fighting. He's also unquestionably one of the company's most popular stars. While it's possible that some backstage feel the character has gotten stale, and a world in which a heel BCC works well on AEW programming does theoretically exist, Tony Khan needs to think long and hard about the possible ramifications of trying to get fans to actively boo Jon Moxley.
Does AEW have more hearts and souls lying around?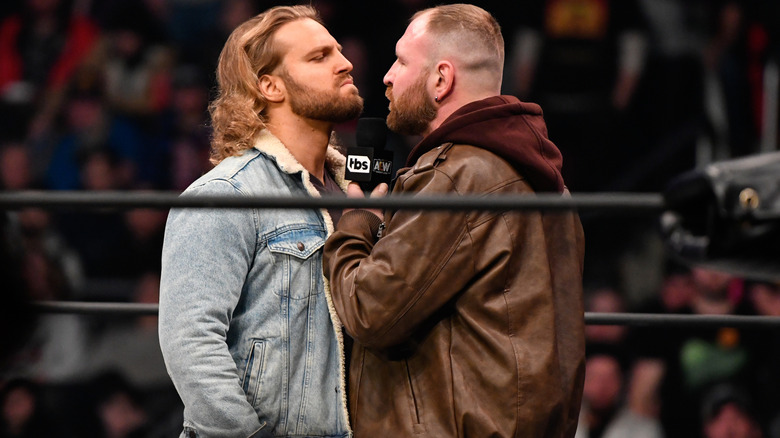 AEW
Moxley debuted at AEW's very first pay-per-view and has been arguably the company's biggest star ever since. He was also the unquestioned MVP of AEW throughout 2022, main-eventing four of AEW's five PPVs, winning Wrestler of the Year awards from multiple outlets (including this one) and anchoring the upstart promotion at a time when injuries and internal strife threatened to unravel it. And while he hasn't wrestled for the world championship since being dethroned by MJF, he's still commonly perceived as — to use his own words from this past August — the "heart and soul" of AEW. It could prove difficult for AEW to convince the fans to turn on him, but the difficulties will likely only compound if they succeed.
Aside from Moxley, how many other top babyfaces does AEW have? Page might qualify, though he hasn't main-evented a PPV in nearly a year. Kenny Omega could fill the role, perhaps, if he decides to become a singles wrestler again (and assuming he isn't leaving for WWE). Is there anyone else? Bryan Danielson just lost to MJF and seems like he might be away for a while. Adam Cole is just now on his way back from injury and has never been a babyface in AEW. Eddie Kingston is in Ring of Honor. CM Punk is gone. That's basically the entire list of wrestlers who have main-evented a major AEW PPV. Who's left? Ricky Starks? Orange Cassidy? Jungle Boy? Moxley's babyface shoes are large, and there's no one currently capable of filling them.
Moxley might be a good heel, but he's a great babyface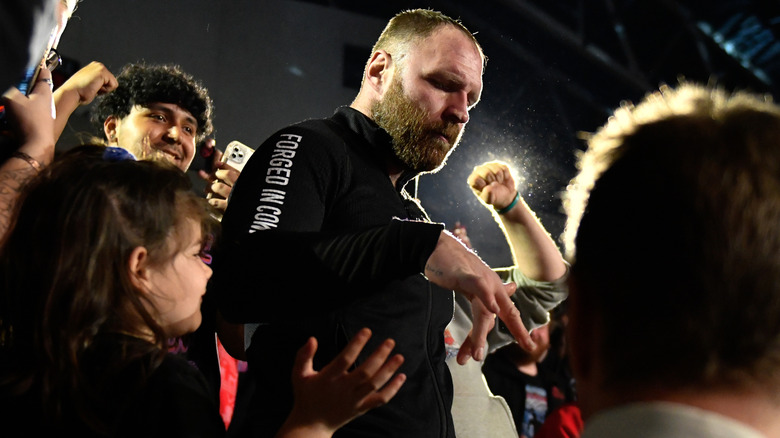 AEW
In all likelihood, Moxley is more than capable of portraying a convincing heel, and possibly even a detestable one. But right now, he's an absolutely fantastic antihero with an undeniably compelling persona and a strong connection to the AEW fanbase. He's never been portrayed as a villain on AEW programming, and his character comes across as authentic in a way most other wrestlers struggle to achieve. He's AEW's answer to peak "Stone Cold" Steve Austin, and we saw what happened when WWE tried to turn Austin heel in 2001. It's particularly hard to imagine AEW's primary audience — consisting as it does of hardcore wrestling fans who track every piece of behind-the-scenes wrestling news — booing a man who stood in the ring and bared his soul to them following his return from rehab, a man who's wrestled 50 AEW matches in the last calendar year (MJF, whose rare in-ring performances enhance his heel persona, has wrestled eight matches in the same period). AEW fans know how important Moxley has been to the company they love; it's going to take a lot of work to get them to turn against him.
Can it be done? Possibly. But it's also a massive risk to be taking, with no clear reward that we can see. Is a heel Blackpool Combat Club really worth the potential loss of Moxley's "Wild Thing" entrance? Just think about that, Tony. Think hard.