Ric Flair Will Reveal Next 2023 WWE Hall Of Fame Inductee On The Bump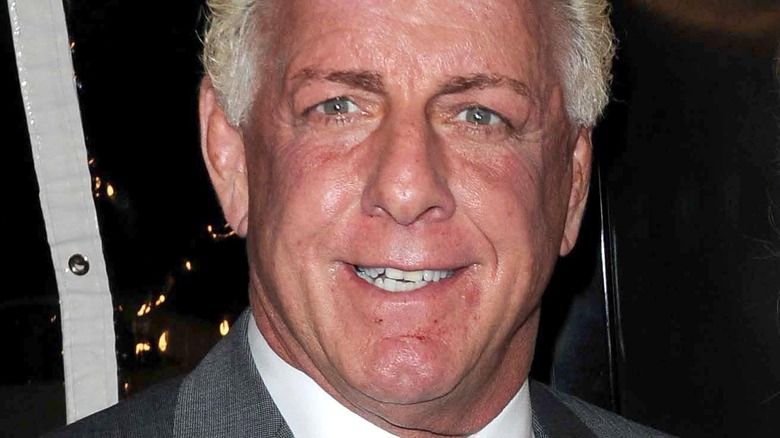 s_bukley/Shutterstock
Last Friday on "WWE SmackDown," legendary luchador Rey Mysterio was announced as the first inductee into the WWE Hall of Fame Class of 2023. And while we don't know who the next inductee will be just yet, we do know who will be revealing them: Ric Flair. You'll just have to tune into "The Bump" this Wednesday to find out.
"BREAKING: The next inductee into the #WWEHOF Class of 2023 will be revealed this Wednesday on @WWETheBump!" WWE tweeted in an official announcement. "PLUS: Special guest and 2-time WWE Hall of Famer @RicFlairNatrBoy joins the show. See you at 1pm ET!"
While Mysterio has already been announced, there are rumblings that both The Great Muta and Stacy Keibler are set for the HOF class this year as well. Before officially retiring last month, Muta worked an inter-promotional match against WWE star Shinsuke Nakamura at Pro Wrestling NOAH's The New Year show on January 1. Notably, he's never wrestled a match for WWE in an official capacity. As for Keibler, talks were said to have been going on for weeks, and that her eventual induction was a "99% done deal."
Flair, of course, is a two-time WWE Hall of Famer in his own right. He was inducted both individually in 2008 and then again in 2012 as part of the legendary Four Horseman stable. While he has claimed to be a 21-time world champion in the past, that number seems to change depending on who's asked. Flair technically "retired" following his WrestleMania loss to Shawn Michaels in 2008, but has gone on to wrestle plenty of times since, including his latest "final match" last July.