Rhea Ripley Shoots Down Idea Of Motionless In White Performing Her Entrance At WWE WrestleMania - Exclusive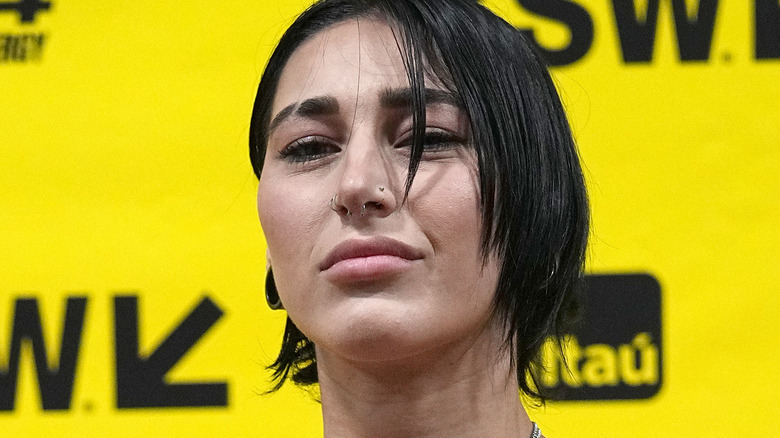 Stephen Olker/Getty Images
WrestleMania is known to be the stage for some of the more grandiose entrances in all of professional wrestling. One of the little touches any grand entrance on the grand stage can have is a live performance of a wrestler's entrance music. From Downstait dubiously performing "Kingdom" for Cody Rhodes at AEW's Revolution pay-per-view in 2020, to Bianca Belair's music being played by the Texas Southern University Marching Band at WrestleMania 38, it's a common practice ahead of a big match. However, in an interview with Wrestling Inc. Senior Lead News Editor Miles Schneiderman, 2023 Royal Rumble winner Rhea Ripley shot down the idea of Motionless in White playing her entrance live.
"They're in Germany," she said, "They had a rescheduled COVID event so they couldn't cancel again, so I don't think we're going to be seeing them tomorrow unfortunately, but maybe in the future. I'm trying to get it set up. I somehow got Chris Motionless to sing my song in the first place, so you never know what might happen."
Ripley will be facing Charlotte Flair for the "SmackDown" Women's Championship on Saturday night at WrestleMania 39. It's a rematch of their clash at WrestleMania 36, and will also mark Ripley's first singles match in front of a full-capacity WrestleMania crowd. While the match seemed to be set for the main event slot for WrestleMania's first night, recent reporting indicates WWE may be leaning towards putting the Undisputed Tag Team Championship match in the main event slot.
If you use any of the quotes in this article, please credit Wrestling Inc. with an h/t for the transcription.